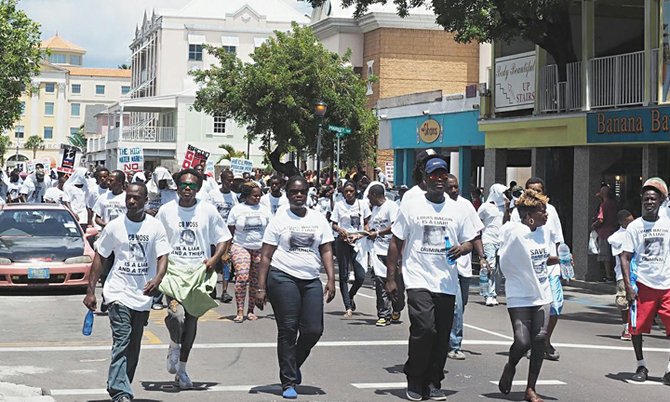 SCORES of supporters of Lyford Cay billionaire Peter Nygard marched noisily through downtown Nassau yesterday in defence of the fashion designer over the criticism he has received from environmentalists and other Lyford Cay residents concerning his controversial development plans.
Several of the protesters carried placards which read "No selective environmentalists here – keep out" and "The high water mark! No trespassing."
The protestors carried musical instruments and were outfitted with t-shirts; one shirt claimed that the Save The Bays environmental group was a "cover" for Lyford Cay resident Louis Bacon.
Supporter Clement Chea told reporters that Mr Nygard should be treated fairly because of his years of philanthropy.
"We're here in support of him, not just because he is (rich) but because of what he has done over the years with the Golden Girls, even donating money to the Bahamas over the years," Mr Chea said.
"We don't understand the rift between Mr Nygard and the people in Lyford Cay but that's not our concern. Our concern is that Mr Nygard needs to be treated as a Bahamian and as someone who has actually given to the Bahamas."
He added: "He understands the plight of the less fortunate. I had an opportunity to walk through Bain Town (with him) and the love he received from Bain Town ... you would think he lives in Bain Town. Mr Nygard doesn't care about where you're from, his thing is I want to do whatever is best for the Bahamas and Bahamians."
The Canadian has been embroiled in a dispute with environmentalists and residents of Lyford Cay over his expansion of his property, Nygard Cay.
The dispute has also drawn international attention. Lawsuits were filed last week against the government by Save The Bays (STB) and wealthy Lyford Cay property owners, including Baha Mar Chairman Sarkis Izmirlian and retired British actor Sir Sean Connery, seeking a judicial review of the planning process for Mr Nygard's expansion.
Over the weekend, Mr Nygard responded to the lawsuits against his proposed expansion plans at Simms Point/Nygard Cay and claimed they are "legal stalling tactics" and present no new environmental assessments.
In a statement released by his Canadian lawyer, Mr Nygard expressed his shock at the allegations, maintaining that he "has always been environmentally conscious" and that recent media reports regarding his "efforts to rebuild Nygard Cay have not been presented accurately".