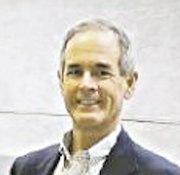 BY DENISE MAYCOCK
Tribune Freeport Reporter
dmaycock@tribunemedia.net
A MASSIVE search and rescue operation is underway in waters off Grand Bahama for an American doctor who has been missing since Sunday while shark diving off West End.
Bahamian authorities have joined US Coast Guard officials in the search for John E Petty, 63, of Longview, Texas. He was with eight others on a commercial shark diving venture north west of West End when he failed to resurface, the captain of the vessel Shear Water told Coast Guard officials.
Michael Malone, director of Search and Rescue at Bahamas Air Sea Rescue Association (BASRA) in Grand Bahama, said rescue crews were still out looking for the missing diver yesterday evening.
The US Coast Guard has deployed a C-130 aircraft and MH60 helicopter to conduct an aerial search of the area. A US Coast Guard cutter is also being assisted by the Royal Bahamas Defence Force and the Royal Bahamas Police Force Marine Patrol Unit.
Mr Malone said BASRA is unable to assist in the search because their vessel is down, but are assisting in other ways.
Grand Bahama Police officials were notified of the incident on Monday and immediately dispatched a patrol unit to assist. Inspector Terecita Pinder said last night they were informed that a crew of American divers were scuba diving shortly after 4.30pm on Sunday in the area of Memory Rock, four miles north of West End, when one of the passengers went missing.
Up until 5pm yesterday, Petty had still not been located although it was reported in a Texas newspaper that diving gear had been found. According to news-journal.com in Longview, Dr Petty is a local chiropractor and rancher known for award-winning photography often done on high-adventure trips around the world.
Mr Petty has been a consistent winner at the annual Texas Bank and Trust photography contest and was on vacation when he disappeared.
Petty is a native of Gilmer who has lived and practiced chiropractic medicine in Longview for 39 years. He ranches in Gregg and Upshur counties.
The search continued for him on Monday night, with Coast Guard crews from Miami and Clearwater, Florida, employing a cutter, helicopters and fixed-wing aircraft.
The newspaper reported that Coast Guard Petty officer Mark Barney reported that dive gear had been found yesterday afternoon during the search, but was not sure if the mask belonged to Dr Petty.
Mr Barney, an officer in the US Coast Guard public information office in Florida, told news-journal.com that the search is ongoing and that there is no policy for how long searches last as each case is different.
"We're still standing by for any details," he told the newspaper. "We have air assets and surface assets currently searching for him. Wherever the current's going, they create a pattern, a grid pattern. The air search is similar, but it's more broad. They pretty much do the same thing - they go back and forth."