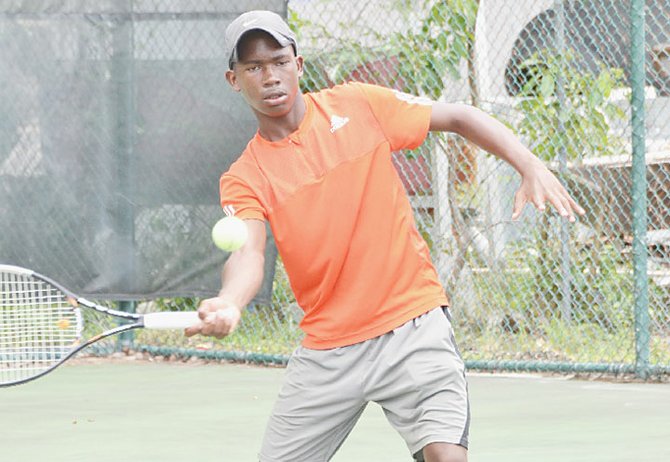 IN the first Bahamas Lawn Tennis Association's Tennis-A-Thon at the National Tennis Centre on Saturday, seven players eclipsed the old record of 563 consecutive hits set by William 'JJ' Fountain.
But when it was all said and done, Fountain was still a part of history as he hit the ball for O'Neil Mortimer, who extended the new mark with an impressive 2,696.
Mortimer's performance came in the second round after the records tumbled like timber in the first round. Nobody expected that the players would have bounced back in the scorching heat to push the record that far.
Tournament organiser Kim O'Kelley thanked all those persons who contributed to the cause. The event called for each player to get a sponsor and based on the amount of balls that they kept in play consistently, they would earn 40 per cent towards their youth development or international travel.
The coaches, who hit for the players, would earn 20 per cent and the remaining 40 per cent went to the BLTA.
During the first round, Jacobi Bain and Justin Roberts broke the record with 633 hits. They were followed by Donte Armbrister and Marvin Rolle with 969. Iesha Shepherd and Sandy Reid were next with 1,045 as they were the first to climb over 1,000. They were followed by Sierra Donaldson and Marvin Rolle with 1,136. But that was short lived as Trenton Smith got enough help from Mark Knowles, Leo Rolle, John Antonas and Derron Donaldson to post 1,544. Kayla Frost and Larry Rolle then pushed it to what was thought to be the limit with 1,568.
But when they went to the second ball, nobody expected what transpired, especially considering the fact that Fountain was hitting all day.
After watching his record fall and broken six times, Fountain made it one last burst of energy as he helped Mortimer go to extend the record to a whopping 2,696.
Cartwright said it was a performance that nobody really expected, although she anticipated that one of the juniors was capable of accomplishing the feat. She praised Mortimer and Fountain for turning in an incredible feat.