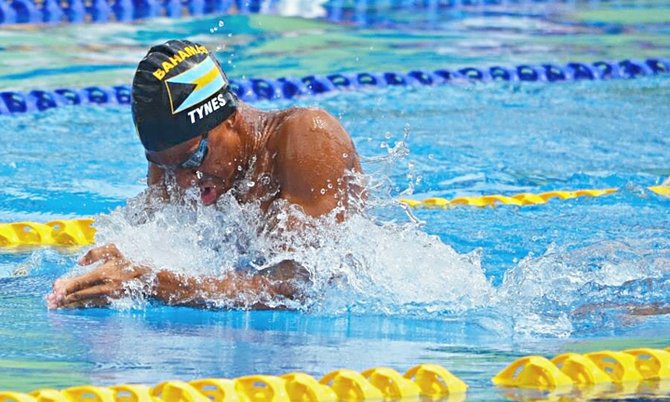 By BRENT STUBBS
Dustin Tynes would have preferred to have swam faster in his debut at his first senior international meet. Tynes, 18, wasn't able to go under his lifetime best of 2mins 22.10sec when he competed in the men's 200 metres breaststroke on Thursday on day one of competition at the 20th Commonwealth Games at the Tollcross Swimming Centre, Glasgow.
He clocked 2min 22.90sec for sixth place in the second of three heats for 15th place overall, missing out on the opportunity to get into the final. The eighth and final qualifier was Christian Sprenger of Australia in 2min 11.96sec.
Tynes' heat was won by Andrew Willis of England in a Games' record of 2min 10.50sec. The time lasted until Scotland's Ross Murdoch lowered it to 2min 08.78sec in touching the wall in the fastest qualifying time in heat one.
"It wasn't what I had expected," said Tynes, the youngest male competitor on the Bahamian team. "I was right on my best time, but I wanted better than that. It will come with practice and training. In the race, I didn't feel like I worked my third 50 metres as much as I needed too. I just have to put that behind me and go for my other races."
During the race, Tynes was fifth through the first 50 metres. He maintained that position until the final 50 metres but on the home stretch, he was passed by Luke Belton.
"I just have to talk to the coaches before my next race in the 100 breast. We have to sit down and get a game plan for that," Tynes said. "Hopefully that will be a better race than this one this morning."
The 100 metres breaststroke is Tynes' specialty. He will be competing in that event today in the fourth of five heats in lane seven.
"It's not that I'm not fit. It's just that my execution have to be better," Tynes said. "I'm happy with my fitness. I just have to learn to swim smarter in that event."
Tynes will close out his appearance here on Sunday when he competes in the men's 50 metres breaststroke. He will be swimming out of the fourth of five heats in lane seven.
Once he is done here, Tynes will prepare to travel to Nanjing, China with Joanna Evans and coach Andy Loveitt to participate in the second Junior Olympic Games next month.