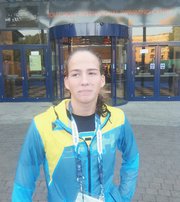 By BRENT STUBBS
Senior Sports Reporter
bstubbs@tribunemedia.net
GLASGOW: Joanna Evans missed out on the opportunity to come back for a second swim in the women's 200 metres freestyle at the 20th Commonwealth Games. But she will ink her name in the Bahamian history books as the new national record holder.
Improving on her lifetime best of two minutes and 5.52 seconds, the Grand Bahama native clocked 2:04.19 for sixth place in the third of four heats for 19th overall. Only the top eight advanced to the final.
The fastest qualifier was Australia's Emma McKeon in 1:56.57, breaking the games record of 1:57.25 that was set by Catlin McClatchery of Scotland in 2006. The eighth and final qualifier was her compatriot Bronte Barratt, who did 1:58.71.
Evans, the youngest member of the Bahamian team at age 16, erased the previous national record of 2:04.84 that was set by Arianna Vanderpool-Wallace back on June 27, 2008 at the Bahamas Swimming Federation's Royal Bank of Canada National Championships.
Vanderpool-Wallace, who the night before made history herself as the flag bearer for the Bahamas during the opening ceremonies, was at the pool watching and cheering on Evans. Vanderpool-Wallace will be competition today with Ariel Weech in the women's 50m freestyle.
"It was a good race. To be honest, coming out here and racing against the professionals was a good experience," said Evans, who is still a junior competitor. "To turn in my personal best performance against the top competitors is very good.
"I think if you just do your personal best, you can't ask for more. And to break a record by Arianna is even more special. I know when I get to the warm up pool, she will be right there."
Just the night before, Evans she said joined in Vanderpool-Wallace's accomplishment as the flag bearer, so she's not concerned at all that she might be upset that one of her records tumbled. Evans said it was her time to shine.
"The opening ceremony was something that you had to be there to experience, especially with Arianna, a swimmer, carrying the flag," she reflected. "It was a good way to get us started and I just think that everybody is now just ready to compete. I know I was today."
In her heat, Evans came through the first 50m in sixth place and she maintained that position. The race was won by Siobhan O'Connor of England in 1:58.58, which also went under the previous games record.
Competing in "no man's land" out in lane eight, Evans said she didn't have anyone to gauge herself with, but her coach Andy Loveitt advised her to hang onto whoever she saw on the inside and that was what tried focused on.
"I just raced with them, but it was hard to keep track of what they were doing," she insisted. "I did the best that I could swimming out of lane eight."
Despite not advancing, Evans said she was delighted to shake of the cobweb and get ready for the long haul as she prepare for her specialty in the women's 400m freestyle that will be contested on Tuesday, the final day of swimming.
"Seeing that I did my personal best, it will prepare me mentally for my next race (on Sunday in the women's 800m freestyle), so I have two days to swim it out easy, get a rub down and get ready for Sunday."
It will also get her ready for her trip to the Junior Olympics that will be held in Nanjing, China in August when she and Dustin Tynes travel with coach Loveitt to compete.