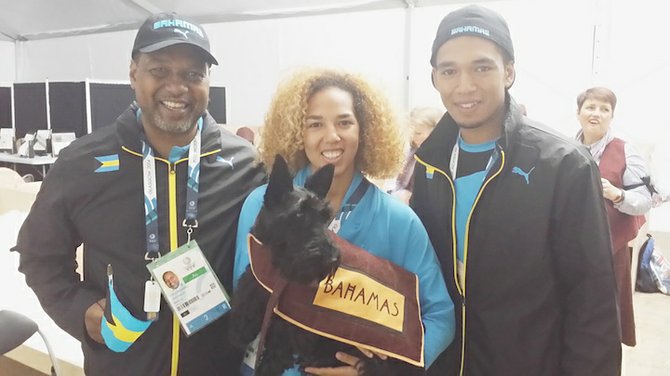 By BRENT STUBBS
Senior Sports Reporter
bstubbs@tribunemedia.net
GLASGOW, Scotland — It wasn't the type of performance that either sibling anticipated, but brother and sister D'Arcy and Cynthia Rahming are hoping to use their experience at the 20th Commonwealth Games as a motivation for their future in the sport of judo.
After the colourful opening ceremonies the night before at the famous Celtic Park, the Rahming duo, accompanied by their father D'Arcy Rahming Sr, were among the first to see action on day one of the games.
Rahming Jr's men's 66 kilogram bout against Joe Mahit of Vanuatu lasted just 56 seconds by Seoi-nage, while his sister's battle with Kirsty Powell of Wales went for two minutes and 10 seconds at the SECC Hall.
With very little experience to rely on, 24-year-old Rahming Jr gave it a gallant effort but the 22-year-old Mahit, who came into the games as the fifth ranked competitor in the Oceania Championships and 260 in the world, made him pay dearly for it.
"The first exchange he came out with a standing right and I went in with my game plan. So I stepped to the top of the triangle and I did a left sweep to get him off the ground. I thought I had scored that point, but the referee gave him the minor point instead," Rahming Jr said.
"On the second exchange, I went out again, thinking he was a rightie, but he switched to the left and he did some ground work in between. He went in and he grounded me again and that was the end of the match."
Mahit, who competed at the World Championships in 2013 in Rio de Janeiro, Brazil, came up with the Seoi-nage, a shoulder throw - one of the traditional 40 throws of judo - to seal the victory.
"The experience was good. I was pretty confident that I was going to win that match, so I was a bit disappointed," Rahming Jr said. "It wasn't like I wasn't in the match. He just got the better of me today."
With his competition over and done with, Rahming Jr said he will hang around the venue and keep in as much pointers as he can and also lend his support to the other Bahamian athletes as they compete.
After his departure from the competition, Rahming Jr sat around and cheered on his sister, Cynthia.
"It doesn't end here. I am trying to achieve a lot more things than just trying to get a medal," she said. "With that in mind, I wasn't nervous in previous tournaments. I was quite comfortable and I went out and tried to execute our game plan to the best of my ability.
"We spent a lot of late nights trying to correct some of the mistakes I made in the past with my Ne Waza (ground technique) where I usually end up getting pinned because I'm very passive, This time around, I did get pinned, but it wasn't because I was too passive. The girl was just able to get around me faster."
By the time she goes to the Central American and Caribbean Games in November in Mexico, 20-year-old Rahming said she intends to improve that costly mistake that caused her appearance on the mat to end earlier than she had anticipated.
"These competitors are beatable. The last time I competed at a very high level of competition, I didn't last very long," Rahming said. "I was pretty much equal with my competitor, which told me that next time I should do even better."
Rahming Sr, the president of the Bahamas Judo Association, said clearly his children lacked the experience in their matches.
"Of course we are disappointed. We were prepared, but judo is like that," he said. "The action is in the preparation. The one thing we couldn't prepare for was to have more experience. You can only have more experience by having more experience."
Not taking anything away from his children, Rahming Sr said there's "no excuse. We did what we had to do in preparation, now we just have to go and fight a ton of these before we go to the CAC Games."
Despite their early exit, Rahming Sr said he was still proud of their efforts.
"Of course I'm disappointed, but not depressed because we got some more experience," he said.
Bahamas Olympic Committee president Wellington Miller, accompanied by secretary general Rommel Knowles and their special guest, Sidney McPhee, were on hand to encourage the Rahming clan.
"The judo guys were prepared for their matches, but it's obvious that they lacked the experience," he said. "It's one thing to be prepared mentally, but if you don't have the competition it's going to be hard to have success at this level.
"I know we went through that with boxing. We went into the ring with guys who had about 200 fights compared to our five fights. We got our programme right where we gave them more exposure and now we have been getting the results."
Miller, who also serves as the president of the Amateur Boxing Federation of the Bahamas, said it's going to be imperative for the judo competitors to get in more competition and the BOC will be working more with Rahming, their treasurer, to help them get more exposure to the sport.
"These are growing pains that you have to go through in these sports," he said. "I'm sure that the president has a plan and by the next games, they will be able to achieve a lot success."