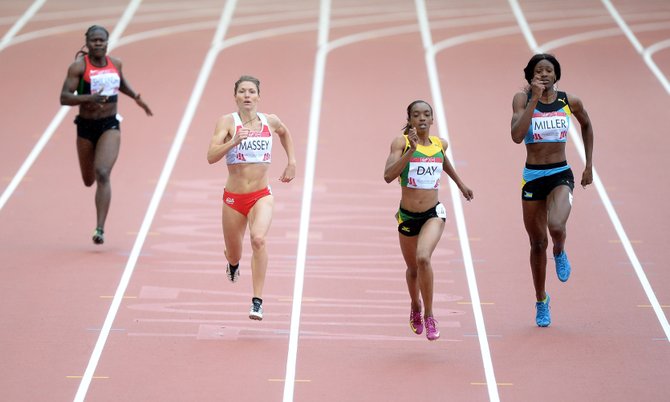 By BRENT STUBBS
Senior Sports Reporter
bstubbs@tribunemedia.net
GLASGOW, Scotland — Day one of the athletic competition at the Hampden Park National Stadium saw three sprinters and a quarter-miler all advance out of the preliminaries of their respective events on Sunday.
Moving on in the men's 100 metres to the semifinals are national champion Shavez Hart and runner-up Warren Fraser. Just barely missing out in a Bahamian threesome was Adrian Griffith.
On the women's side, Sheniqua 'Q' Ferguson was the only one to survive out of the Bahamian duo connection as Cache Armbrister fell short in her bid. And in the women's 400m, while national champion Shaunae Miller didn't have any problems getting to the semi-finals, Lanece Clarke fell a bit short.
Here's how the drama unfolded for the Bahamian squad yesterday:
Fraser breaks the ice
As the first competitor on the track, Warren Fraser's race had to be called back twice for a false start charged to Tahir Walsh of Antigua and Leon Reid from Nigeria. Lined up next to Trinidad & Tobago's Richard Thompson, Fraser made sure he kept his composure and was able to stay in the front of the pack when the race got underway. The 23-year-old national indoor 60m record holder crossed the line in 10.31 seconds for third place and ended up tied for eighth place overall.
"I was pleased that I advanced, but I preferred to win," Fraser said. "I like how the race ran. I executed like I needed, so the rest was just to stay relaxed and bring it home. When the guys got the false starts, I was glad because they didn't give us much opportunity to get out of the blocks. So I preferred to have a chance to get out those two times to get myself ready for the race."
Today, Fraser is slated to run out of the first of three semifinals in lane six at 2:35pm. He will need to either finish in the top two or post one of the next two fastest times in order to advance to the final that will be contested in the final at 4:50pm EST.
Griffith had to wait
Two heats after Fraser, Adrian Griffith competed, but he got left in the blocks and by the time he tried to make up some ground, he ran out of real estate with a third place in 10.46. He had to wait until all nine heats were completed before he found himself in "no man's land," occupying the 25th spot overall, the first behind the top 24 that moved on.
"It was really cold and they held us for a long time," the 29-year-old Griffith said. "My body just went cold, I'm not used to this. Thank God I got through it without any injury."
Hart keeps the momentum
After watching Griffith miss the cut, Shavez Hart came out and made sure that he took care of business in the last of the nine heats. He got out to a quick start and was in control of the race until he got overtaken by Trinidad & Tobago's Krston Bledman.
Bledman, 26, won the race in 10.16 and 21-year-old Hart trailed him in 10.32.
"I just tried to run an effective race to make sure that I got to the next round. I want to take it one round at a time," he said. "I had a good start, but because of the good start, the drive phase was a little off but I reacted pretty good to the gun."
With both him and Fraser advancing, Hart assured the Bahamian people that they can look forward to some great things from Team Bahamas.
Like Fraser, in order to earn the trip to the final at 4:50pm EST, Hart will have to be one of the first two finishers or have the next fastest times, running out of lane six as well at 2:42pm EST.
Armbrister didn't advance
Coming into the meet with a slight left hamstring injury that she sustained in her last meet in Madrid on August 19, Cache Armbrister said she had to be a little cautious in her race.
It didn't help as she could do no better than 11.83 for fifth place that left her tied with another for 25th overall and out of semifinal contention.
"In Madrid, I couldn't finish the race after I caught a really bad cramp," Armbrister said. "So I am just happy that I was able to finish healthy. It was way below my potential, but sometimes that's the way it goes in track and field. Sometimes you have a good day and sometimes you have a bad day.
"Today, things just wasn't what I had planned, but although I felt a slight pain in the hamstring, I'm just happy that I didn't hurt it again. It's disappointing, but being healthy is always more important."
Ferguson breezed through
There weren't any problems for Sheniqua Ferguson as she followed Armbrister in heat three by taking second place in 11.60. The heat was won by Jamaica's Schilonie Calvert in 11.29.
"First race since Nationals, so you have to run every round hard and get to the final," Ferguson said. "I wasn't all that pleased with the time, but I felt I executed my race, so I just have to talk to my coach and see what I have to change."
Ferguson, 24, is also hoping things will change as she is still waiting for her bag to arrive in Glasgow. She came here from Atlanta via New Jersey, so she doesn't know where the mix up took place on the journey.
In the meantime, Ferguson will continue her journey to the final today when she runs out of the second of three heats in the women's 100m semifinal at 2:17pm EST when she will have to either take one of the top two spots or wait to see if she gets one of the next two fastest times.
Miller comeback
When the women's 400m preliminaries got started, Shaunae Miller was hoping to have a relatively easy time. But she found herself having to battle from behind after she got left on the back stretch.
She was able to power back on the home stretch for a second place finish in 52.34 for the fourth fastest qualifying time as she booked her ticket to today's semifinal.
Miller, complaining of a headache, will now compete out of the second of three heats at 3pm EST. The first two and the next two fastest finishers will book their ticket into the final that is scheduled for 3:30pm EST on Tuesday.
Clarke didn't move on
As Team Bahamas closed out day one, Lanece Clarke gave it her best shot, running 56.24 for 29th overall. She was just five spots shy of making it to the semi-finals as the 24th and final spot was tied in 54.77.