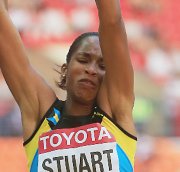 By BRENT STUBBS
Senior Sports Reporter
bstubbs@tribunemedia.net
GLASGOW, Scotland — Bianca Stuart landed in her first final at a major international meet by popping the longest qualifying jump in the preliminaries of the women's long jump at the 20th Commonwealth Games on Wednesday.
Stuart needed just the first of her three attempts when she stepped on the runway out of Group B at the Hampden Park National Stadium to soar 6.67 metres or 21-feet, 10 3/4-inches for her longest jump of the season.
It wasn't so good for collegiate Tamara Myers, who missed out on the opportunity to redeem herself after she came one spot shy of making the final in the triple jump. She had a best of 6.14 (20-1 3/4) on her third and final attempt for seventh in Group A and 17th overall.
"I'm very happy that I was able to pull it off on my very first jump," said the 26-year-old Stuart, who is making her debut at the Commonwealth Games. "I finally got into a final at a high level competition like this, so I'm just happy and grateful to God that I was able to get through healthy."
Compared to her appearances at both the 2010 Olympics in London, England and two years ago at the IAAF World Championships in Daegu, South Korea, Stuart said she came to Glasgow and was able to get sufficient rest prior to competing yesterday.
"I'm fully mentally prepared and I am fit, so it's all mental for me right now," she said. "I just want to give it my best like I did today. Hopefully I can maintain what I did or go even further."
Myers, coming off a good college season for the University of Arkansas, said she really wanted to join Stuart in the final, especially considering the fact that she was one of three Bahamians celebrating their birthdays at the games.
While her own fell on Sunday, swimmer Joanna Evans turned 17 on Friday, July 25 and quarter-miler Alonzo Russell will be 22 on the final day of the track and field competition when the men's 4 x 400m relay is scheduled to be contested. "I'm a little disappointed, but I still have one more meet this year, so I will take tomorrow off and start preparing for that," said Myers, who will be travelling with the Bahamas national team to the NACAC Championships in Kamloops, British Colombia, Canada, August 8-10.
"Hopefully that will go good and I can end the season on a good note. But it was alright today. I wish it was better, but things happen. This is track and field."
In her series of jumps, Andros native Myers opened with 5.90m (19-4 1/4) and she increased it to 5.94m (19-6) before she closed it out with the 6.14m (20-1 3/4), but it wasn't sufficient to get her into the final. The 12th and final qualifier was Ese Brume of Nigeria with 6.29m (20-7 3/4) on her first attempt.
"I just started off late in my jump phases and I paid for it," Myers said. "I watched when Bianca got in with her first jump. She's in the running for the gold, so I want to wish her the best."
Stuart is the Bahamas national record holder, having pushed the mark to 6.81 m (22-4 1/4) in 2011. She joined Ryan Ingraham and Donald Thomas as the only jumpers to reach the final where they were both tied for ninth with 2.21m (7-3).
Stuart, the national champion, will be the first competitor to compete in the final tonight at 2:15 pm EST.