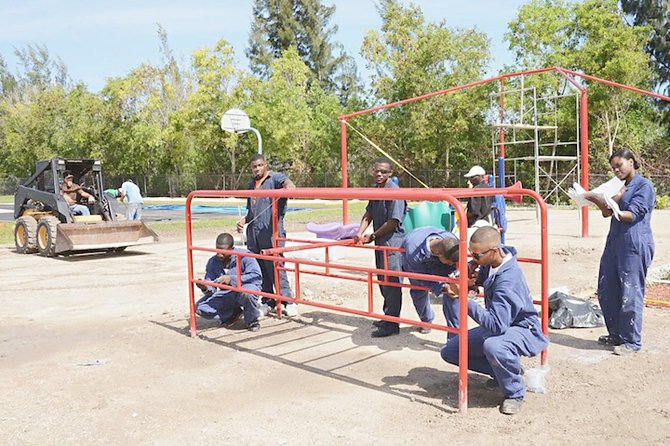 APPRENTICES at Grand Bahama Shipyard (GBS) learned the true meaning of giving back by helping to build the newly-opened special needs playground at the Beacon School in Freeport. The improved playing area includes a track slide set, swing set, merry-go-round, two bocce ball courts and a basketball court. Most of the equipment is wheelchair accessible.
Both the shipyard and their apprentices are proud that they were able to help bring a smile to the Beacon School students, all of whom are special needs children. By helping to construct the playground, they were able to see that playtime is just as important as study time.
The apprentices assisted with equipment assembly, laying the sod at the playground and painting. The special needs playground was named in honour of the late Rotarian, Steven M Dillet, and was the Rotary Club of Lucaya's signature project for the year, as Dillet had a passion for students at the Beacon School.
"Grand Bahama Shipyard is committed to service and participation in our local community," said David Brannon, Senior Project Planner at GBS. "We are grateful for the opportunity participate with Karen Clarke, the Rotary Club of Lucaya, and all those who contributed in support of the Beacon School playground project."
GBS was honoured that they were contacted to assist with the construction of the playground, and were happy to work with the Rotary Club of Lucaya, Waugh Construction Co Ltd, Gold Rock Corporation Ltd, Guardian Fencing & Shutters Ltd, and the multitude of companies that helped to make this project possible.
"It was wonderful to see the children enjoying this phenomenal playground," said Carl Rotkirch, CEO of the Grand Bahama Shipyard, who attended the official opening. "It also gives me immense pleasure to see our apprentices and our own management pitching in to help make this a reality. Job well done!"