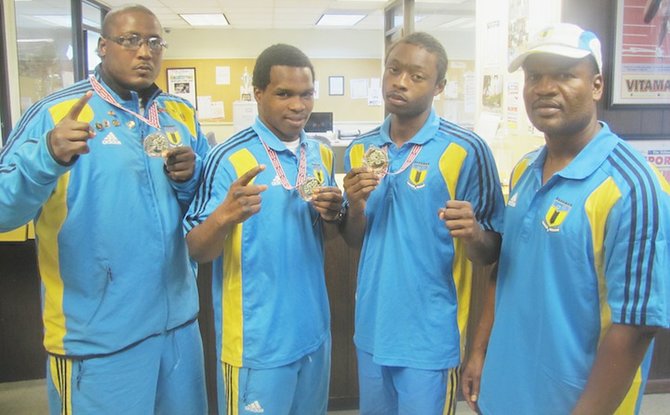 By BRENT STUBBS
Senior Sports Reporter
bstubbs@tribunemedia.net
THREE of the four Bahamian boxers returned home with medals from the XVI International Jose 'Cheo' Aponte Boxing Tournament in Caguas City, Puerto Rico.
The quartet, coached by Andre Seymour, returned home with Ronald Woodside in the 56kg – bantamweight and Godfrey Strachan in the 75kg – junior heavyweight both clinched bronze medals, while Keishno Major in the 91kg - super heavyweight got a silver. Rasheed Williams in the 64kg – junior welterweight was just shy of getting a medal.
On their return home, Seymour said the tournament served a good tune up for Strachan and Major, who will be joining Carl Hield as members of the team that eill represent the Bahamas at the Commonwealth Games from July 23 to August 3 in Glasgow, Scotland.
"We have to compete in these types of tournaments at this time of the year to prepare our boxers," said Seymour, who was assisted at the tournament by his cousin, Floyd 'Pretty Boy' Seymour. "All of the boxers who were at the tournament in the Dominic Republic in February competed in this tournament.
"The USA team won all the gold in the Dominican Republic and they had that same team in this tournament. So we are building with these four boxers and we have to continue to compete on the road if we want to be able to be successful at the Commonwealth Gmes and the CAC Games."
Major got a bye all the way to the gold medal round where he lost out to the American, while Strachan got to the semifinal, as did Woodside. But Seymour noted that Williams lost to the American in the bronze medal round. The American went on to win the gold at the tournament.
The Bahamas competed against boxers from Brazil, the Dominican Republic, Guatemala and Puerto Rico, who entered three teams in the tournament.
While Major, Strachan and Hield are preparing to travel to Glasgow next month, Strachan and Hield have already booked their trip to Veracruz, Mexico from November 14-30 are Strachan and Hield. At least two or three boxers will be heading to Colombia in August for the final round of the qualifying for the CAC Games.
Major silver medalist
Against the USA super heavyweight, Major said he was taken out of his game plan, which was to box from the first round.
"It was a very tough fight," Major reflected. "I was getting a lot of help from Floyd and Andre Seymour and from the experience that I gained at this tournament, I need to work on a new boxing style where I face taller opponents, who are a good boxer. I have to get on the inside and box them."
From the tournament, Major said he gained a lot of experience that he hope to put into practice when he head to the Commonwealth Games.
"I was a bit depressed by the loss, but I got a lot of encouragement from Floyd and Andre Seymour, so I hope to be back improving on my skills," Major said. "For the Commonwealth Games, I hope to project a new style to the world, so I'm going to be giving it my all.
"Boxing is also a mental sport, so I have to try to find some ways to get mentally sharp when I step into the ring. It's not just throwing your hands up, you have to learn to think."
Strachan silver medalist
Back on the international scene this year after a two-year hiatus, Strachan said he's getting better with each event and he's only looking forward to the future.
"I was able to display the skills that coach Andre and Floyd Seymour instructed me to do," Strachan stressed. "I just went out there and did what I had to do. The competition was tough, but I fought as hard as I could to get a medal. I wanted th3e gold, but I came home with the bronze.
"I fought against a home town boy, but the fans didn't like the decision. They felt they took the fight from me. I did everything that I could do to win. Some of the coaches and others said I won the fight, so I was proud of myself. I just needed to go out there and throw more shots and I did that."
Like Major, Strachan is also looking forward to Glasgow.
"This tournament prepared me extremely well," Strachan stated. "At Commonwealth, I expect that there will be a lot more boxers and everybody will be ready. I didn't get to go to the last Commonwealth Games, but I'm glad that I have a chance to go to this one, so I am looking forward to putting on a very good performance."
Woodside bronze medalist
Although he won a bronze, Woodside felt that he just left the silver or gold slip out of his hand.
"I felt I could have done better in my fight to get me to the next round," he said. "I didn't get off as much punches as I should have and I should have kept the fight in the middle of the ring instead of staggering off on the ropes. But it was a good experience, knowing that you are fighting one of the top boxers in this region.
"I've learnt some stuff that I hope to put into effect when I get back into the ring."
While the others are preparing to travel to the Commonwealth Games, Woodside said he's looking forward to traveling to the United States to get some more training before he go to the final trials for the CAC Games in August.
On Saturday night following their participation in the Champion Boxing Club's Wellington 'Sonny Boy' Rahming Silver Boxing Tournament at Arawak Cay, Strikers Boxing Club coach Ronn Rodgers said he was disappointed that the Bahamas Amateur Boxing Federation didn't allow his boxers to compete against the boxers mentioned above in a bid to try and qualify for the national team.
But Seymour cleared up any misconfussion, noting that in order for competitors to compete on the elite national team, they have to be 19 years and older.
"I know all those boxers. They just started when the Strikers Boxing Club started," Seymour said. "They are young boys and none of them have the experience to compete at the elite level. Ronn just started and everything has changed at the elite level. He need to continue to build those boys because they are the future.
"After this Olympics (in 2016 in Rio de Janeiro, Brazil), they should be ready to take over. But for now, we will continue to work and prepare those 4-5 boxers because they are our elite boxers. We have to make sure that they get the exposure that they need to get ready for the Olympics."