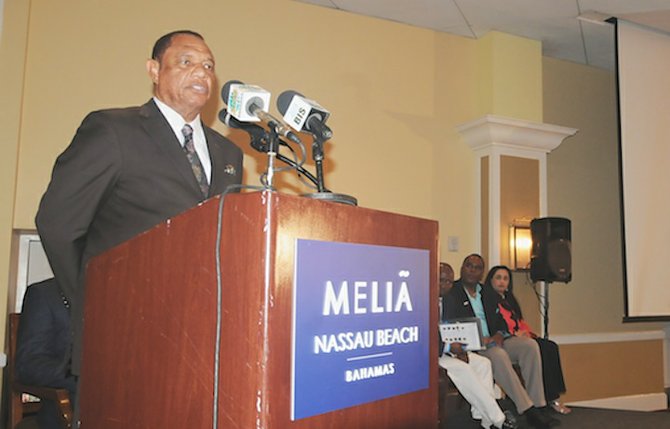 BAHAMIANS suffering from traumatic brain injuries will soon have access to local rehabilitation services after a pledge of crown land from the Prime Minister.
Speaking at the launch of the Mitchell Ekedede Brain Injury Foundation last week Prime Minister Perry Christie committed the government to provide the land on which the foundation could build a brain trauma centre.
"The government has a stake in what you are doing and so tonight, I would like to tell you that we are committing to contribute the land on which to build the foundation," said Mr Christie.
"I will remain close to this cause and will pay close attention to the foundation as hundreds of thousands of dollars will be spent for this worthy cause."
The foundation's co-founder and trustee, Dr Magnus Ekedede, said he was overjoyed that the "dream" had finally become a reality. He said every measure will be taken to ensure transparency and accountability in the operation of the foundation.
The goals of the foundation include to provide financial support and information, to create awareness and to build a brain trauma centre.
Recounting his own personal experience with brain trauma as a result of a stroke, Mr Christie said the "fight to recover is an incredible and difficult one."
Demont Mitchell, son of Matthew Mitchell, a co-founder and trustee, shared his story of suffering a major brain injury. He had fallen asleep at the wheel of his car while driving and had an accident. He said the recovery process has been a long, painful and difficult one but he was optimistic about his future.
Also providing a testimonial was Ms Chacelle Johnson, who also sustained brain injuries as a result of a car accident.
The trustees of the foundation also include: OAT "Tommy" Turnquest, co-chairperson; Johanna Mayson, co-chairperson and secretary;  Larry Gibson, treasurer, Anthony Ferguson, Craig Gomez,  Dwayne Gibson, Dr Fabian Thurston and Dr Zonya Mitchell.