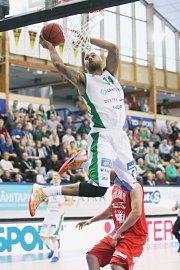 By BRENT STUBBS
Senior Sports Reporter
bstubbs@tribunemedia.net
MOST athletes would probably have looked outside of the Bahamas to help them with their physical fitness, but professional basketball player Jaraun 'Keno' Burrows said he found the right personal trainer here at home in former basketball player Jimmy Mackey.
Through the assistance of Mackey, Burrows went on to be named the "Center of the Year" during the Korisliiga Awards announced on May 20. The 203-pound 6-feet, 8-inches player in the Finnish professional basketball league with Tapiolan Honka was also selected as a member of the All-Tournament second team at the same position.
Now home for the summer and another training session with Mackey, Burrows reflected he had a pretty good season.
"Last summer, I had a really good time training with Jimmy Mackey's Max 360 Sports right here in the Bahamas," Burrows said. "I feel like that was what carried over in the season because I came out really strong and just played consistent and a high level through the entire season."
Burrows, who will turn 29 this year, said he was thrilled to have been selected as the top center in the league.
"That is the most significant award that I have received in my entire career," he admitted.
"Based upon the fact that my goal is to always be able to excel in whatever league I play in, I always want to try to be the MVP or make the All-Tournament team. I feel a few times in the other leagues that I've been on, I haven't gotten the due credit, but after so much hard work, I think it's now paying off for me.
"Being from the Bahamas, you are going up against so many good European and American players, so it's really a honor to be able to earn this award."
Burrows, who played previously in Switzerland, Slovakia, Sweden and the Unite3d States in the American Basketball Association (ABA), finished the season with a scoring average of 19.1 per game, 9.5 in rebounds and 2.8 in assists.
"I felt great. That was where I wanted to be," Burrows noted. "I was in the top five in points and block shots and I also led the league in field goal percentage with 64 percentage and double-doubles and efficiency."
As a team, Taplolan Honka ended up in the middle of the 12-team field in sixth place with a 20-28 win-loss record in the Korisliiga standings.
"Our team, we overachieved as a team this year," Burrows pointed out. "Professional ball is about budgets and money and so our ranking was very, very low coming into the season. The expectations wasn't high, but we didn't let that bother us. WE took the season one game at a time and everybody was pleased with the way we finished.
"Although we didn't finish the way we wanted too in the playoffs, so I guess it worked out very well for us."
Although he achieved some success this year, Burrows said he's not going to rest on his laurels.
"I spoke to my agent and we're looking at the bigger leagues now in Spain, Italy and France," he projected. "So again, I'm going to be on the stage, so I have to prove myself."
Although the inquires have been flowing in every day, Burrows anticipate that by the end of June, he should know exactly where he will end up plying in the upcoming season.
In the meantime, Burrows said he will continue to work out with Mackey and the opportunity presents itself, he will make himself available to play on the men's national team this summer. But he admitted that just in case a deal comes through and he have to leave town, he want to offer the team best wishes and he will try to join them in their next tournament.