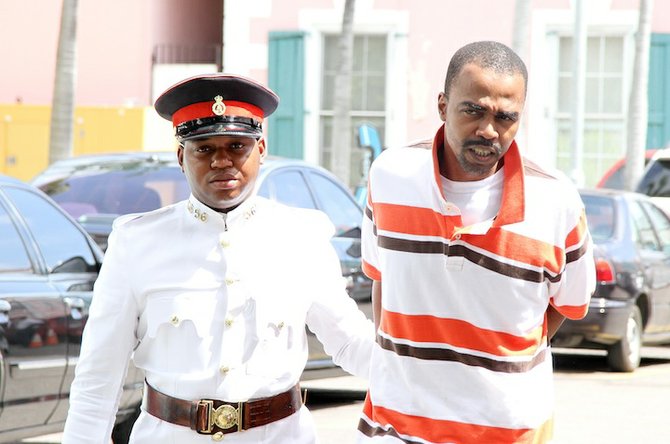 By LAMECH JOHNSON
Tribune Staff Reporter
ljohnson@tribunemedia.net
DEATH row inmate and convicted child killer Kofhe Goodman must wait four months before his appeal hearing takes place in the country's second highest court.
The 39-year-old has retained lawyer Wayne Munroe to argue the 28 grounds of appeal he intends to rely on for the September 9 substantive hearing in the Court of Appeal.
Goodman is seeking to have the Court of Appeal overrule a Supreme Court jury's verdict that found him guilty of the murder of Marco Archer, of Brougham Street, in August 2013.
Goodman, previously represented in the Supreme Court by Geoffrey Farquharson, made his first appearance in the appellate court since he was sentenced to death by Justice Bernard Turner two months after his conviction.
Court of Appeal President Justice Anita Allen, who is presiding over the matter with Justices Stanley John and Abdulai Conteh, informed Mr Munroe and Crown counsel Darell Taylor that the transcripts were available, but "quite innumerous."
Mr Munroe agreed and said he would undertake to obtain them for the court reporters' office.
Both Mr Munroe and the prosecutor agreed to have their submissions and responses filed to the court five working days before the scheduled substantive hearing.
Last year, Goodman stood trial between April 17 and August 2 for Marco's murder. He was found guilty.
During that trial the prosecution argued that Goodman killed Marco between September 23 and 28, 2011.
In the lead up to sentencing, which occurred in late October, a death sentence, life imprisonment, or a 15-year prison term were the punishments Justice Turner was asked by counsel to consider.
The judge, in handing down his sentence, noted that abducting a child, fracturing his skull with a blow to the head, placing a bag around his head and discarding his naked, lifeless body in bushes can be considered to be "the worst of the worst" in the guidelines for sentencing set out by Parliament.
Justice Turner, in considering the death penalty, regarded the mitigating factors and the circumstances of the case – Goodman's previous convictions for unnatural carnal knowledge in 1993, attempted murder and causing grievous harm in August 1998 – and was "satisfied that the circumstances of this case required that a penalty be imposed."
"This case is a clear and compelling case for the ultimate sentence of death, to satisfy the requirements of due punishment for the murder of this child and to protect this society from any further predatory conduct by this convict at any time in the future. Kofhe Edwardo Ferguson Goodman, I hereby sentence you to suffer death in the manner authorised by law," the judge had previously ruled.