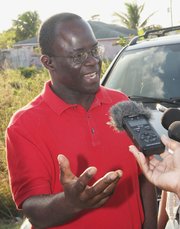 By SANCHESKA BROWN
Tribune Staff Reporter
sbrown@tribunemedia.net
BANK of the Bahamas sent out a company memo on Monday informing the staff that Annette Cash, wife of Free National Movement Chairman Darron Cash, is no longer employed at the bank.
According to the memo, dated June 10, Mrs Cash, a human resource and training manager, was terminated effective June 2.
In May, Mrs Cash was suspended pending the outcome of an investigation into the alleged leak of confidential information from BOB.
Last week, The Tribune reported that Mrs Cash was let go by the bank, however when contacted Mr Cash refused to comment on the matter.
However, in a statement released last week regarding concerns over BOB, Mr Cash denied his wife had any involvement in the leaks of the bank's confidential information. He also said his wife does not have and never did have direct or indirect access to clients' credit information.
"And to be clear, she has never received nor passed on any information for publication in The Punch newspaper or anyone else," Mr Cash said in his statement.
"My wife is a human resources management professional who worked with Bank of The Bahamas for almost ten years. As a certified HR practitioner, she is a consummate professional and she is committed to her craft. She believes in decency and order, best practices, consistency in the application of policies and procedures, and she has been one who has demonstrated skill in balancing the roles of member of the management team and an advocate for employees.
"As an employee advocate, she is not shy about speaking truth to power. She is not a politician. I am. The fact that the bank has chosen to wage a war against her about my public utterances is regrettable," the statement said.
In early May, police officers seized two laptops and a smartphone belonging to Mr Cash during a search of his home. The search was reportedly in connection with an investigation into the alleged leak of files from the bank.
Mr Cash's lawyer, Carl Bethel, later filed a motion in the Supreme Court arguing that his client's rights had been violated. A week after, Mr Bethel said the parties involved reached an "amicable" agreement on the matter.
Mr Cash received his seized items a few days later. The FNM has called the search and seizure a political witch hunt.
Mr Cash has been outspoken over the past few months about his concerns over management practices at the bank.