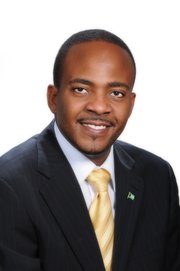 By KHRISNA VIRGIL
Tribune Staff Reporter
kvirgil@tribunemedia.net
 IN the House of Assembly yesterday PLP MP Dion Smith told the Christie administration that his constituents in "frighteningly" poor Nassau Village complain of not being able to "feel" the government.
Mr Smith, who is the MP for Nassau Village and deputy speaker of the House, said there are many residents who are experiencing the same hardships of Grand Bahamians, but feel overlooked.
He said there are declining conditions in his constituency because the government does not appreciate the real status of poverty in the area, which he defined as "dense".
"This suffering knows no party lines," Mr Smith said. "It knows no social grouping, it knows no family names, and it has no barriers. You will be surprised to know what is truly happening in many of our homes. I call for us to stop and stop this minute to put our finger on the pulse of the nation. Because somehow and some way we must turn this around.
"The most hurtful part is they go home to a house where children are crying from hunger and they have nothing to eat. This is real talk, this is real life and this is really happening in my constituency.
"The people of the Nassau Village constituency demand our fair share of this budget. Grand Bahama has gotten their fair share of this budget, but the people of the Nassau Village constituency are saying that they are in a similar state of that of Grand Bahama and they demand the attention of this government."
Mr Smith called on the government to uphold all of the promises made during the PLP's election campaign, specifically job creation 
"The cry in my constituency is jobs," he said, as he made his contribution to the 2014/2015 budget debate. "Every time I find one job, 10 more constituents come seeking employment. The density of poverty is so severe that it is frightening.
"Too many people in the Nassau Village constituency go home to a house with no light, Mr Speaker, too many go home to a house with no water, or to a cupboard with no food.
"They have told me they will not sit silently in anticipation of relief. They want to make sure they get their just due of the 5,000 new permanent jobs to be created at Baha Mar and the spin off jobs to be created as a result of this new mega resort."
He said that his constituents have also complained that the area received far fewer home repairs from Urban Renewal when compared to other areas in New Providence.
In addition he said there is a need for drains, speed bumps and pot hole repairs in the area.