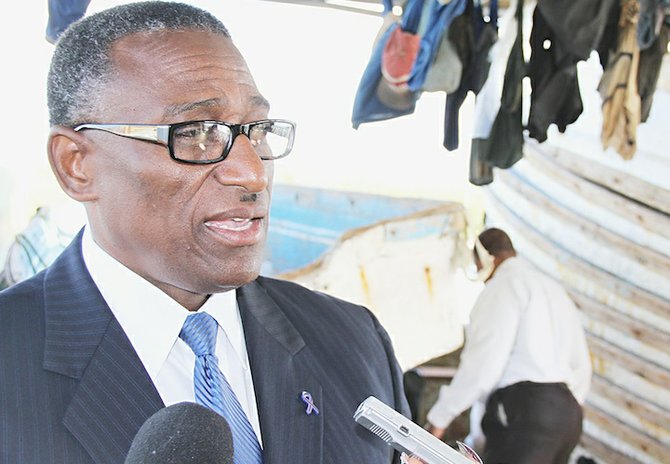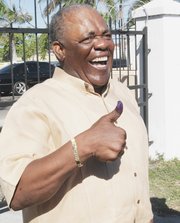 By KHRISNA VIRGIL
Tribune Staff Reporter
kvirgil@tribunemedia.net
V ALFRED Gray, Marine Resources and Agriculture Minister, predicts the return of former Prime Minister Hubert Ingraham as leader of the FNM in a plot to oust current party head Dr Hubert Minnis.
Mr Gray, who has previously said he warned Dr Minnis that colleagues within his party were coming for his post, has taken things a step further saying the FNM leader is headed "for a political death".
"The member for Killarney," he said, "I love the brother.
"He is a good Bahamian, but he has got some knives at his back in his party and if he don't watch out they are going to back stab him to political death."
Mr Gray was speaking in Parliament last week. During that address, Mr Gray said that if Mr Ingraham, who is also the former North Abaco MP, were to return to frontline politics, then he would offer himself for another election run in the MICAL constituency.
"I make another prediction," Mr Gray said. "The former member for North Abaco is going to set up the Deputy Leader to take the seat in Long Island from her (and) return to the FNM and oust him (Dr Minnis) too.
"I said before if Hubert Alexander Ingraham returns to politics that is the only reason why I would not go.
"I want him to come back you know. We beat him three times on a stretch, we beat him before, we will beat him again. If he comes back, I will stay as a condition.
"I will face him whatever side of this political divide, more preferably in here."
Last week, FNM Deputy leader Loretta Butler-Turner told The Tribune that she was deliberating on whether she would run for the FNM's top post when conventions are called.
She said she had not made any decisions regarding the matter.
"A lot of people have asked me about it so in that regard I would certainly give it consideration," Mrs Butler-Turner said.
"Like anybody else, I think we all evaluate if we can do more and if we can do something different and I think the only other post for me would then be a consideration of if I would challenge for leader.
"While I haven't made that decision, certainly I would not rule it out at this time."
The party's Deputy Chairman, Dr Duane Sands, earlier this year said that he was also considering contesting the position.