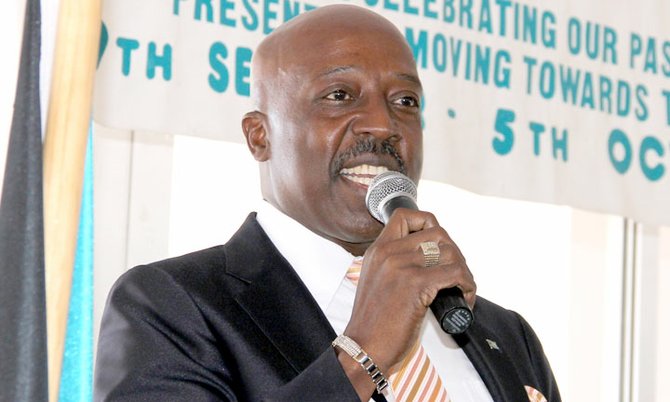 By LAMECH JOHNSON
Tribune Staff Reporter
ljohnson@tribunemedia.net
THIRTY thousand people who were unemployed before May 2012 are now employed, Labour Minister Shane Gibson said in Parliament yesterday.
In his contribution to the 2014/2015 budget debate, the MP for Golden Gates said the government has the proof to back up his statements.
He earlier told Parliamentarians that he obtained the employment information from the National Insurance Board's (NIB) contribution records at the request of Deputy Prime Minister Philip "Brave" Davis. He said the collection of NIB contributions is one of "a few ways we can tell how many jobs are operating in the Bahamas."
"A new company would have to register for National Insurance and then as you have various employees being hired by various companies who have to pay contributions for them," Mr Gibson said.
"(Mr Davis) asked me, why don't you go to National Insurance, ask them for a list of all the companies that registered since May 7, 2012, ask them for a name list of the persons who companies took off their payroll six months prior to May 7, 2012 and then give me the list of all of the individuals, the new employees the companies start to contribute for between May 2012 and May 2014.
"Mr Speaker you know what we came up with? We had 43,000 persons who companies began paying contributions for the first time since May 7, 2012. Then we did a cross-reference as we said 'hold on a second now' because there were some persons who came off the payroll and we did the exercise and we got 13,000. So 13,000 from 43,000 leaves 30,000. So we had approximately 30,000 persons between May 2012 and May 2014 who are employed today who were not employed prior to that time."
Two weeks ago during his 2014/2015 Budget Communication, Prime Minister Perry Christie confirmed to parliamentarians that during his administration's two years in office, labour market conditions improved slightly with 2,600 jobs added to the Bahamian workforce.
Mr Christie explained that employment figures, which covered six months of the year 2013 up to November, resulted in a lowered jobless rate. That rate, he said, fell to 15.4 per cent from 16.2 per cent overall.
The job creation numbers, however, disagree with a figure printed on the inside cover page of a magazine created and funded by Bahamas Information Services (BIS) to mark the government's two years in office.
The 60-page document, which was distributed days prior to the PM's remarks in Parliament, had a caption which read: "Almost 7,000 new jobs created as Christie government marks 2nd anniversary in office."
In response to the document, Opposition leader Dr Hubert Minnis told The Tribune he was doubtful that the government created 7,000 jobs.
He added: "This Christie-led government should be ashamed of themselves for using our tax dollars to fund this obvious PLP propaganda tool. The bigger question here is exactly what did BIS pay to have these books produced?"
If labour force statistics since 2011 are considered, nearly 7,000  jobs were added. At that time, the employed labour force consisted of 160,185.
Later in 2012, Department of Statistics officials concluded an increase of 165,255 and then in 2013 166,595 persons were employed. The overall number of new jobs during that three-year period came to 6,410.
Additional labour force statistics state that are 30,285 unemployed people in the Bahamas.