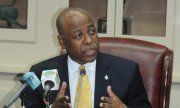 By KYLE WALKINE
Tribune Staff Reporter
kwalkine@tribunemedia.net
THE systems in operation at local webshops have surprised international lawyers and analysts who have said they have never seen such complex gaming systems, according to Minister of Tourism Obie Wilchombe.
The minister, who also has responsibility for gaming, said the lawyers who were flown in from such countries as the United Kingdom and Africa were amazed at how advanced webshop systems are in the Bahamas.
According to Mr Wilchcombe, webshop owners and their lawyers, as well as experts working on behalf of the government, have already made their submissions to the government for regulating the sector.
He said they are now concluding their draft of recommendations, inclusive of the legislation they intend to lay on the table in the House of Assembly.
That should be complete by Friday, he said.
"You would find that they (webshops) have put in place such a sophisticated system that lawyers that came in from outside of The Bahamas said that they have never seen it before," Mr Wilchcombe said yesterday on the steps of the Churchill Building.
"That's the level to which they have developed this gaming that has become an industry. The experts are guiding us through it to make sure that we cover all the bases. But it's not been the easiest thing in the world to do."
Mr Wilchcombe recently told The Tribune that the government will most likely only grant licenses to a maximum of eight webshops once the industry is regulated.
The government has said it plans to soon regulate the sector and that taxes will be retroactive to July 1.
The owner of one of the smaller webshops, Let's Play, has already stated that it appears that the government is operating in favour of the bigger webshops. He noted the government's proposed $1m licensing fee and performance bond.

However, Mr Wilchcombe said in writing the legislation, the government is not looking at how big the companies are. Instead, he said, they are going to set a standard rate that would minimise the number of players in the industry.
"You see, that's the unfortunate reality," he said. "But we have another unfortunate reality. If you had a wide open situation and persons who have millions of dollars can come in, then tomorrow they can take it all over. You see, we are faced with a situation that over the years has evolved. It's not a situation where we are doing something new. The market has been there.
"We're only seeking to regularise what exists while understanding that there are a number of people out there interested in coming into the business. But at the same time you have to think of those who you have to grandfather in and you have to think about a system that's going to be suitable and is not going to push people away."
FML Group of Companies CEO Craig Flowers told The Tribune on Monday that he would welcome smaller webshop owners to operate under his company if they cannot meet requirements to be licensed.
Mr Wilchcombe said he had no problem with that idea.
"That's a part of business. If a company cannot survive on their own, then it only makes sense that they join up with another," the MP said.