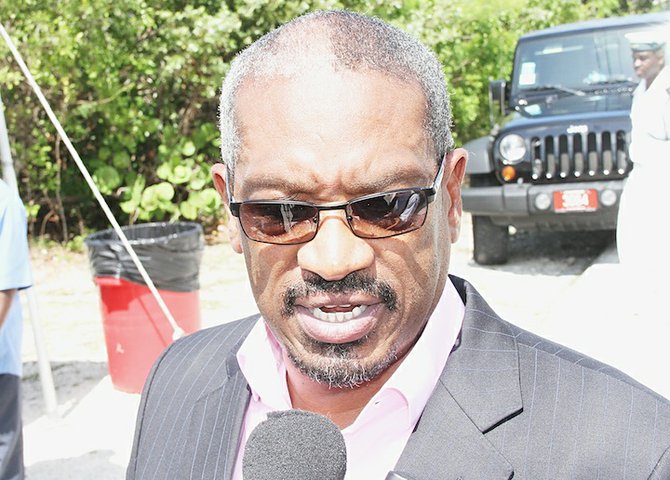 By RASHAD ROLLE
Tribune Staff Reporter
rrolle@tribunemedia.net
FREE National Movement leader Dr Hubert Minnis said he "is not familiar with any tension" between himself and Deputy Leader Loretta Butler-Turner.
He was responding to questions from The Tribune after Mrs Butler-Turner told reporters that there was some tension between the two after she publicly said she is considering challenging Dr Minnis for the FNM's top post.
"I'm not familiar with any tension. I'm focused on trying to remove the PLP; it's important for the whole country to remain focused on trying to remove the PLP," he said.
While Dr Minnis offered little comment on the reports of a rift, FNM Chairman Darron Cash said that Mrs Butler-Turner's admission of tension is "minimally distracting" from important national issues such as the ongoing budget debate.
"I don't know what she's referring to. Only she can speak to that. The overwhelming majority of people in the FNM are focused on working together for priority one and priority one is to keep Perry Christie and the PLP from destroying this country more than what they have already done in the last two years. The vast majority of FNM members are not focused on internal rambling and disagreement. They are focused on keeping this government accountable."
He added: "Anything that distracts from the 100 per cent focus on the exercise of smokes and mirrors revealed in this budget is wrong. We know what is a priority."
FNM deputy chairman Dr Duane Sands also called the issue a distraction, though he added that Mrs Butler-Turner's candour will be valued by the public.
"The deputy leader spoke candidly about a relationship or her perception of her relationship. I think that we all are likely to speak about our own personal views. Moving forward, it's going to be very important that people remain at a level of candour and openness.
"Obviously it is a bit of distraction to the message of the FNM that this is carried on the front page, particularly given the many issues with the budget, crime and economy and so on and so forth, but it's still news."
Dr Sands rejected the notion that the narrative of harmony within the FNM is starting to unravel.
"I think if you look at the FNM, the FNM has historically been a party that has supported the rights of individuals to speak their conscience, people self-compelled to speak against what they believe to be problems," he said. "In its purest form, the FNM acknowledges the rights of individuals with a common goal, a common interest to not hide behind public facades. Sometimes that can be problematic – look at what happened in 2002; we were unable to resolve those issues in a timely and amicable fashion. But I think it speaks to a healthy democracy. We are going to go to convention and we have to resolve these perceived issues at that time."
Dr Sands said he is surprised more attention hasn't been focused on "infighting in the PLP."
"Obviously, there has been great aversion to the leadership of Perry Christie. It's created a lot of factions, many different factions. But the expectation is that the PLP would be held to lower standards than we are."
Elaborating on this, he said: "You have the Brave Davis faction; the Obie (Wilchcombe) led crew; Fred Mitchell's attempts to demonstrate his leadership has been going on and on. There's no question that the PLP has some of the same types of individuals as they've always had, people who've sought to topple the leader. The way that the PM managed to hold on the last time was to destroy the bid of Bernard Nottage in his leadership attempt. We are not like them and so the public is looking forward to not only the perception of a united, harmonious FNM, but the performance of a united, harmonious FNM."
Mrs Butler-Turner had reportedly told The Nassau Guardian recently that since admitting to The Tribune she aspires to lead the FNM, "little things" in her relationship with Dr Minnis shows the tension between the two.