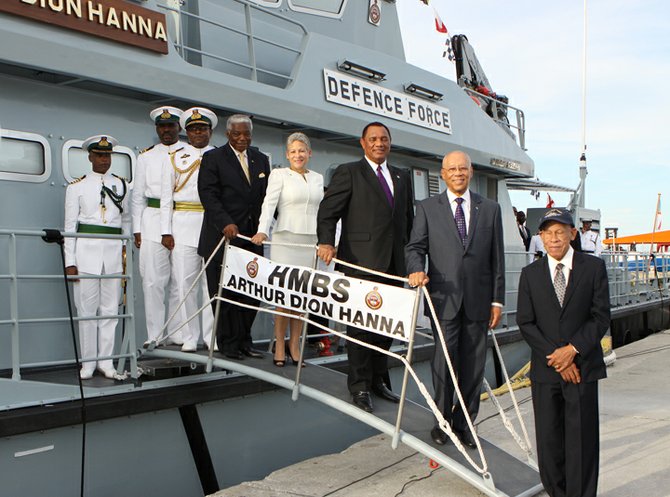 THE first of The Bahamas' new patrol boats slipped its berth early on Friday to start its maiden voyage in defence of the country's sovereignty.
Armed with combat systems and technologies that are expected to achieve maximum returns – especially in the war on transnational criminal activities such as guns, drugs and human smuggling, and other activities such as poaching – HMBS Arthur Dion Hanna's first patrol comes a week after it was accepted into the Royal Bahamas Defence Force's (RBDF) fleet during commissioning ceremonies at Kelly's Dock.
The first of nine ships built by Damen Shipyards that are designed to revitalise the RBDF fleet in a $232m investment, the Arthur Dion Hanna is also one of four Legend class patrol boats that will be put into service over the course of the next few months.

Minister of National Security Dr Bernard Nottage, said the entry of HMBS Arthur Dion Hanna into operational service ushers in a new level of capability and capacity for the RBDF.

"The obligations of the Defence Force are very demanding and are becoming more challenging as The Bahamas is increasingly being threatened with illicit activities that are inclusive of the trafficking of drugs, human smuggling, trafficking in persons, the poaching of our marine resources and trafficking in firearms and ammunition," Dr Nottage said.
"Illegal firearms in particular, have taken violent crime to a new level in our country. The increased threats require that we adopt new and improved strategies, particularly given the expansiveness and porosity of our borders.

"With modern communication, navigation equipment and armament, HMBS Arthur Dion Hanna is suitably equipped to safeguard the territorial integrity of the archipelago whilst providing maritime law enforcement throughout The Bahamas.

"It is our hope that we will achieve maximum returns through sound leadership and the resolve and determination of highly trained and committed professionals who can exploit the full range of capabilities offered by these new, sophisticated combat systems and technologies."
Dr Nottage said what happens in the country's maritime territory has far-reaching implications for public safety and security throughout the islands of The Bahamas and beyond.
"Transnational crimes and other activities at sea – whether they be illicit trafficking, illegal migration or poaching of our marine resources – can also have serious implications for inter-state relations."

He said The Bahamas' "vulnerability" to these acts is verified by the reports of the World Bank and the United Nations that indicate the drug trade as prime driver of crime across the Caribbean.

Citing a UN Report on "Crime, Violence and Development: Trends, Costs and Policy in the Caribbean" from March, 2007, Dr Nottage said the report indicates that the strongest explanation for the relatively high rates of crime and violence in the region and their apparent rise in recent years is narcotics trafficking.

"Those who serve onboard HMBS Arthur Dion Hanna will play a leading role protecting the nation's interest and in ensuring the stability of the national economy," Dr Nottage said.
"May the indomitable will and spirit of her namesake be throughout this ship and ingrained in the Officers and Marines who serve aboard ship."