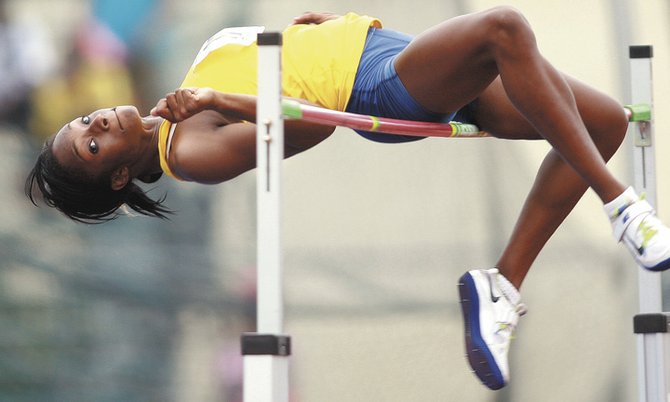 By BRENT STUBBS
Senior Sports Reporter
bstubbs@tribunemedia.net
Kenya Culmer finds herself all alone in a unique position in Cedar Falls, Iowa.
Competing at the Missouri Valley Conference Indoor Championships on Sunday, Culmer had all attention on her as the women's high jump was the only event being contested at the time at the UNI-Dome. With the crowd throwing their support behind her, Culmer rode the momentum to soar six-feet - the highest mark ever by a Bahamian.
Her feat was so impressive that it produced a personal best and a new national record as the 21-year-old improved on her two-year-old previous mark of 6-9 to qualify for her first trip to the NCAA Division One Indoor Championships in her senior year for the Southern Illinois Saluki.
"I felt wonderful. I felt so good to finally clear six feet," said Culmer in an interview with The Tribune. "After I went over the bar (on her last attempt), it felt wonderful."
Not feeling her best going into the meet, Culmer said she surprised herself by the performance.
"I really wasn't expecting the result. I know I was ready for it," she said. "I didn't think that day would have been the day for me to accomplish it. It was just a matter of going out there and competing and trusting in God."
Culmer, who is also knocking on the door of pushing her national outdoor record to six-feet as well, helped Saluki to post a double high jump sweep as she joined freshman Kyle Landon, the male champion. It was the first indoor SIU high jump sweep since 1998 (the third ever indoors) and the first in either season since 2002.
Nobody was more elated about her performance than head coach Connie Price-Smith.
"At the time (Kenya) was jumping, there was nothing else going on, so everyone was watching her," Price-Smith said on the Southern Illinois website. "Not just Saluki either, all the teams were watching and clapping along, knowing this could lead to nationals."
Culmer is now ranked at No.9 in the nation and will automatically be in a position to secure one of the 12 spots for the NCAA Indoor National Championships March 14-15 in Albuquerque, New Mexico. She is expected to join two other Saluki team-mates in Josh Freeman (shot put) and weight thrower Sophia Lozano.
"I'm looking forward to going to New Mexico," Culmer said. "I'm happy that I finally made it there. I just have to go out there and perform."
Also at the meet in Iowa was Printassia Johnson, a junior at Illinois State, who was disqualified in the 60 metres and placed 19th in the 200m (25.65), but it wasn't enough to get her into the final.
Bahamians competed in a number of other conference meets around the USA over the weekend. The following results were posted:
Southeastern Conference (SEC) at the Gilliam Indoor Track Stadium in College Station, Texas:
• Raymond Higgs, a senior for the University of Arkansas Razorbacks, won the men's long jump with a leap of 7.83 metres or 25-8 1/4. Higgs also doubled up in the triple jump where he was seventh with 15.34m or 50-4.
• Andros' Tamara Myers, competing as a junior for Arkansas, got second in the women's long jump with 6.28m or 20-7 1/4. Myers was also sixth in the triple jump with 12.89m or 42-3 1/2.
• Grand Bahamian Shavez Hart, competing as a junior for Texas A&M, got third in the men's 200m in 20.66 seconds. He was also fifth in the 60m in 6.69 after running 6.68 in the heats.
• V'Alonee Robinson, a senior competing for the Auburn Tigers, was eighth in the women's 60m in 7.46. She ran 7.33 in the preliminaries. And she also competed in the 60m hurdles, running 8.48 for 13th place.
• Teray Smith, a freshman at Auburn, was 11th in the 200m in 21.22.
• Rashan Brown, competing for the University of Georiga, got 12th in the women's 400m in 53.97.
Mountain Pacific Sports Federation (MPSF) Indoor Championships in Seattle, Washington
• Tynia Gaither was second in the womrn's 60m in 7.39 seconds after running 7.38 in the preliminaries.
Big South Indoor Track and Field Championship in Blacksburg, Virginia
• Marcus Thompson, senior at Campbell University, was fourth in the men's 60m in 6.89 after running 6.87 in the preliminaries. He also got fourth in the 200m in 21.64 after running 21.90 in the preliminaries.
• Andriel Strachan, a freshman at Campbell University, was fifth in the women's pentathlon with 3,099 points. She also got sixth in the high jump with a leap of 1.62m or 5-3 3/4.
Atlantic Coast Conference (ACC) in Clemson, South Carolina
• Grand Bahamian Alonzo Russell was ninth overall in the men's 400m in 48.49 seconds.
Big 1- Indoor Championships in Geneva, Ohio
• Devynne Charlton ran 7.52 seconds for eighth place in the women's 60m after she did 7.56 in the preliminaries. Charlton also got fifth in the women's 60m hurdles in 8.36 seconds. Her time in the preliminaries was 7.56.
• Minnesota senior Te'Shon Adderley was 25th in the women's 800m in 2:18.16.
• Penn State's freshman Danielle Gibson was 26th in the women's long jump with a leap of 5.35m or 17-6 3/4.