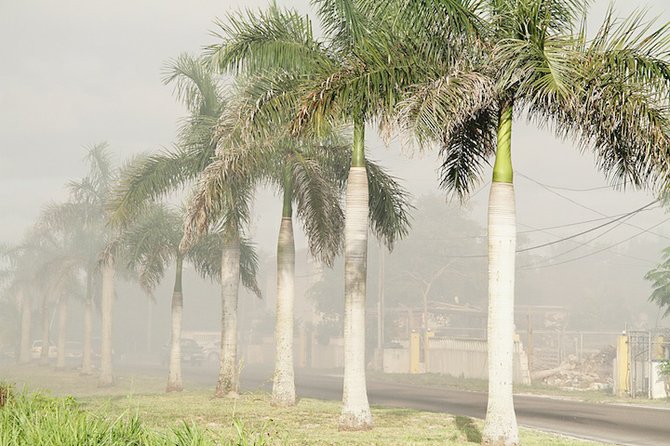 THOUGH the intentional fire set at the city dump has reportedly been contained, Environment and Housing Minister Kenred Dorsett said there is now a second fire that is expected to take days to be put out.
Mr Dorsett confirmed this in a statement over the weekend as the city dump continues to impact citizens living in the surrounding communities who have been forced to either evacuate or simple stay and deal with the smoke.
"I want to advise the general public that there are two fires at the New Providence Landfill" he said.
"I gave a report of a tyre fire which is believed to have been intentionally set. This fire has been contained though there is still a burning off which is being monitored."
"There is also a subsurface fire which also erupted yesterday (Friday). We have mobilised a significant amount of heavy equipment and water trucks to assist in the containment of this fire which is expected to take a few days to properly contain. There is no indication at this time as to the cause of this fire."
The Environment Minister advised residents in the neighbouring communities, particularly Jubilee Gardens and those in the south to "please keep your windows closed as much as possible".
"For those who experience respiratory challenges, please seek medical attention. I will be contacting Dr (Perry) Gomez, Minister of Health to advise him of the conditions so that his health teams can be mobilised. We apologise for any inconvenience caused," he concluded.
On Friday, Fire Chief Walter Evans said authorities received reports about the blaze not long after they had extinguished an unconnected fire at the City Dump early Friday morning.
He said when they arrived on the scene shortly after 7am, authorities found a mountain of burning tyres separated from other debris.
He noted that although the fire might have been bigger than other fires at the City Dump in the last few years, it is unlikely that the fire will smoulder on for weeks like previous ones did.