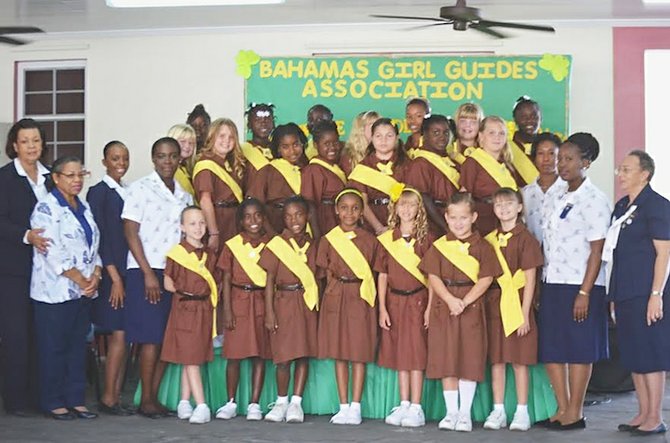 THE very first Brownie girl's group was started in Spanish Wells, Eleuthera.
The start of the group several weeks ago was a significant event for the 23 Brownies and four leaders at the Spanish Wells All-Age School. In the presence of the school's principal, Degry Higgs, teachers, parents, students, guide leaders from Eleuthera, along with District Commissioner Audrey Culmer, the Brownies pledged to keep their promise and "do a good turn every day, especially at home."

The excited Brownies displayed their knowledge, skills and creative abilities through song, dramatisation of a Bahamian version of the Brownie story and dance. The quality of their performance was applauded by the audience.
President of the Bahamas Girl Guides Association Anita Bernard and Elma Garraway, Assistant Chief Commissioner with responsibility for the Family Islands, travelled to Spanish Wells to participate in the historic occasion.
They congratulated the Brownies, leaders, parents and the school, and welcomed them into the World Association Of Girl Guides and Girl Scouts – sisterhood of 10 million girls.
Parents were challenged to consider serving as Girl Guide leaders to ensure a company to which the Brownies can progress when they turn 11.

The Brownie pack is led by Allandra Russell, a sixth grade teacher. She is assisted by three other teachers: Ashley Ferguson, Yanique Clarke and Antonise Finley. The leaders were commended by their principal, who noted that the Brownie Pack has retained all its original members since its inception.

Kelly Underwood, a Brownie parent, expressed her support for the first Spanish Wells Brownie Pack and said she was pleased with the variety of activities offered in the programme.