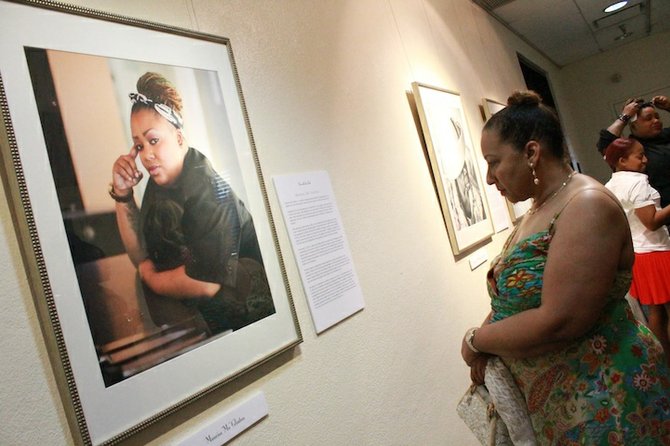 By JEFFARAH GIBSON
Tribune Features Writer
jgibson@tribunemedia.net
EXPLORING women's love for hats and the place this particular fashion accessory has in Bahamian culture is the focus of the new 'Beneath The Hat' exhibition.
The special exhibit, which opened last Saturday on International Woman's Day, features 18 portrait photos of Bahamian women, selected from a cross-section of the community, adorned in some of their most exquisite hats.
After viewing the portraits and reading each accompanying profile, several guests attending the official opening said they learned that there was more to the women and their hats than meets the eye. Artist Chantal Bethel, writer Laurie Tuchel and photographer Lyndah Wells said they recognised this fact almost immediately when they embarked on the 'Beneath The Hat' project two and a half years ago.
As co-chairs of the Grand Bahama Heritage Foundation, Chantal and Laurie thought the non-profit organisation was the perfect vehicle for the initiative.
It all came together during the collaborative art project "Freetown: A Question of Faith", where they witnessed first-hand the hats worn by women attending church in Freetown.

After conducting interviews with several women, Chantal and Laurie said they realised there was much more to explore regarding the topic of hats.
During the interviews, all of the women spoke of the passion they had and the numerous hats they wear daily as mothers, counsellors to their families, as bread winners, creators, innovators and more.
With the help of accomplished photographer Lyndah Wells, portrait photos of the women wearing hats were taken. The portraits to invite people to seek answers about the women from the profiles; find out who each woman is, what her passions are, and to learn about the experiences that have in some way shaped her life and influenced the numerous roles she plays today.
The opening featured a panel of seven of the women who shared their life's passions; they included Marina D'Aguilar, Rubie M Nottage, Ginger Moxey, Maurisa Glinton, Piaget Moss, Apostle Rita Stuart and Erika Gates.
Wife of Prime Minister Perry Christie, Bernadette Christie, was also interviewed two years ago for the project and was present during the opening of 'Beneath The Hat'.
"We all wear different hats, and this is what the exhibition was all about, to make people remember that under a hat there is a brain and there is a woman underneath," Mrs Christie told Tribune Arts and Entertainment.
"It is important, also because this is International Women's Week, so I am really proud to be a part of it. It brings awareness to the role of women in society because we wear so many different hats and sometimes we do not appreciate the different hats we wear."
In her portrait photo, Mrs Christie is featured playing the saxophone, a passion of hers very few people knew about.
While she has many more interests, Mrs Christie decided as part of this project to share her love for music and the saxophone, an instrument she began learning to play at age 60.
"I hope that is an inspiration to not only women but men as well. Whenever you want to do something, no matter how old you are, just go ahead and do it," she said.
Marina D'Aguilar, a life-long art collector who founded the D'Aguilar Art Foundation with her husband, the late Vincent D'Aguilar, said the hats worn by the women in the portraits tell a story.
"My husband and I treat our artwork like our children. There is not a favourite. Every piece is an individual and we want to encourage and support young artists," she said.
Piaget Moss was one of the youngest women featured in 'Beneath The Hat'. She is a young contemporary mixed-media artist whose vision is fresh and modern.
"I think it is wonderful to be featured in the show. In celebrating women, I was able to celebrate myself, celebrate my mother and all of those figures who pushed and molded me to the path I am on now," she said.
Unfortunately, another subject, Lucille Adderley, who is affectionately called "Mamalou", passed away in January before completing her interview for "Beneath The Hat".
However, her life as a Bahamian Calypso and fire dancer and her later work in the church as a lay minister was celebrated during the exhibition.
Chantal said: "What was interesting about the project is that all these women have a passion, and very often in art when you start something, the process is what becomes interesting. Each of the women have a passion and that is what we photographed.
"Projects like this usually celebrate women who are doctors or lawyers. But this wasn't about the profession, because sometimes a woman's profession has nothing to do with her; but it is about what she loves. And these women had something they love and that they went after it," she said.
The exhibition also featured an art installation entitled "Hattitude" by Chantal. The installation is a black gown, embellished with 250 gold hats. For the installation, Chantal collected hats from women who no longer wanted them, to create the gown's train.
Other women featured in 'Beneath The Hat' include: Agatha Thompson, Alisa Streather-Robinson, Anthea Bullard, Beverly Chin Munnings, Annette Carey, Erika Gate, Ginger Moxeys, Lady Laurie Miller, Debbie Archer, Maurisa Glinton, Apostle Rita Stuart, Sue McCrea, Rubie Nottage, Amanda Adderley and Deaconess Doris Cooper.
The exhibition will be open at the Central Bank of the Bahamas throughout the month of March in Nassau; it then moves to Freeport in May.