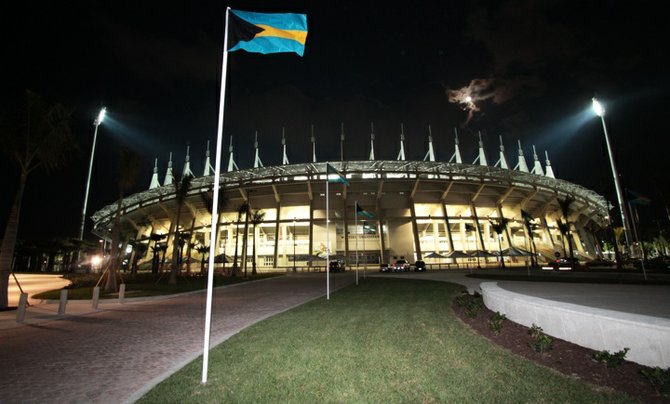 By BRENT STUBBS
Senior Sports Reporter
bstubbs@tribunemedia.net
SOPOT, Poland — The International Amateur Athletic Federation closed the chapter on its 15th World Indoor Championships on Sunday. Now they are preparing to open the new one on their inaugural Bahamas World Relays.
While the Bahamas' 11-member team was competing in the Ergo Arena at the World Indoors over the weekend, three members of the local organising committee were engaged in a series of meetings with the IAAF.
LOC chairman Keith Parker, who was accompanied by Bahamas Association of Athletic Associations president Mike Sands and Government liason officer Grafton Ifill II, said it was a tedious task, but they had to make sure both parties were meeting their requirements for the relays scheduled for May 24-25 at the Thomas A Robinson National Stadium.
"Things are looking real good," said Parker about the preparation being made at the stadium. "We had several long meetings here with the IAAF. We had a lot of documents to go through. There were clauses that we were not happy about and there were some clauses that they were not happy about. I think we've ironed them out and we have been able to come up with something that we feel everybody will be very proud of."
Once they get back to Nassau, Parker said his committee will be going full steam ahead to ensure that they comply with all of the requirements as outlined by the IAAF to ensure that the event is a success.
"So far, the IAAF seems very happy about what they plan to do and how they plan to do it," Parker said. "So we can only hope for the best."
Looking at the set up for the World Indoors, although it's indoors, Parker said there are a lot of logistical ideas that they can fully utilise.
"The accreditation team that worked here will be coming to Nassau to do the accreditation," Parker said. "So they are very happy with that. We also welcome them because they already have all of the mechanisms in place."
While the transport committee was on the ball from day one, providing sufficient cars to pick up the dignitaries, athletes, officials and the medi, coming towards the end of the meet, Parker said they noticed a decline in the amount of drivers that were available.
"We will have to make sure that there are no hitches with the transportation," Parker stated.
If there is one area that the LOC is hoping they can get high marks for, it's the accommodations for the local and international media.
"It will be better than you have seen at any other arena around the world," Parker projected. "We have to make sure that we get it right."
When all of the renovations are complete for the stadium, Parker said it will definitely be the envy of the region. He said having been to many stadiums and arenas over the years, he noted that the pubic will really like what they have planned for the TAR Stadium.
"When you see it, you won't believe it," he said. "So the LOC has decided to top what the others have done and we will be making this a very special one with the Bahamian colours we will be placing in and around the stadium."
Leaving it all up to the imagination of the people, Parker said he didn't want to disclose too much details. He just advised Bahamians to come out as the world has already indicated that they will be coming.
"We just have to be ready. We have to make sure that all of our athletes are fit and ready to compete," he said. "We have seen what Chris and Shaunae are capable of doing. Hopefully, they will get to show the world what they are capable of doing right in their own backyard."
Brown and Miller are expected to lead the Bahamas contingent as they compete in the 4 x 100, 4 x 200 and 4 x 400 relays. There will also be a 4 x 800 and 4 x 1,500 but Parker said he doesn't anticipate the Bahamas fielding a team for either of those disciplines.
"I think we will have a good showing," Parker said. "The tickets have only been on sale for about 10 days and we have already sold over 3,000. So if you haven't gotten your ticket yet, I would advise you to go and not wait until the meet comes and you can't get any," he said.
Parker, decked out in his Bahamian colours, said he was as proud as any Bahamian after watching the fantastic performance of quartermilers Chris 'Fireman' Brown and Shaunae Miller in the men's and women's 400 metres to produce the Bahamas' only two medals in the championships.
"I spoke to Chris and told him that it was an impressive performance and of course Shaunae was just fantastic. Chris has been doing this it seems forever and Shaunae is just getting started," he said. "It was some great performances."
As for the rest of the team's performance, Parker said he had agreed with the BAAA to serve the assistant coach to Rupert Gardiner since he would have been in Sopot for the IAAF meetings.
Parker's role was primarily to work with the jumpers as they were the only two Bahamian competitors entered in a field event.
"Believe it or not, but I got sick yesterday (Saturday when Thomas failed to clear the opening height of 2.17m, nursing a toothache before he twisted his left ankle in the warm up, while Ingraham got eliminated after finishing at 2.21m).
"So I wasn't track side, so I really haven't had a chance to talk to Donald or Ryan. But I really thought this would have been the year for Donald to get into the final. He's been jumping very good this year. I don't know what the final straw was."
Parker, however, wasn't sure if his presence would have made a difference with Thomas avoiding the injury or whether or not Ingraham would have gone higher and probably even qualified.
It's something he and the jumpers can only imagine.
With the championships now tucked away in the history books, Parker said he's hoping that the Bahamas World Relays will turn out just as he envisions it being - a huge success.