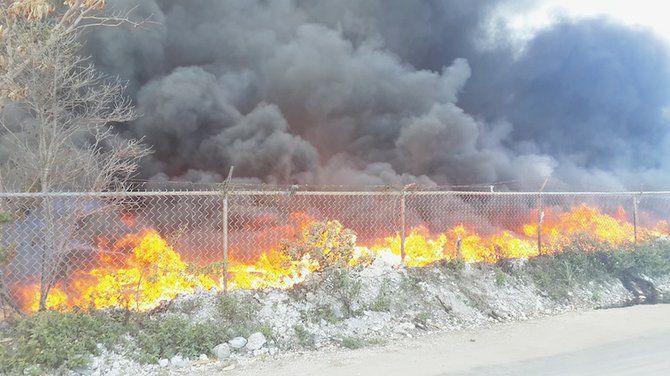 By SANCHESKA BROWN
Tribune Staff Reporter
sbrown@tribunemedia.net
FIREFIGHTERS battled a third aggressive fire yesterday near the New Providence Landfill, creating an even greater health hazard for residents in the area who have had thick plumes of smoke blanketing their homes since last Thursday.
Fire Chief Walter Evans told The Tribune that the fire broke out around 3pm on Monday at the Septic and Sludge Facility of the Water and Sewerage Corporation, which is only a few miles away from the City Dump.
Firefighters have been fighting two separate unconnected fires at the Landfill since Thursday and now Supt Evans said this third fire is sending additional toxic fumes into the air.
"We got the call that there was a fire in the general vicinity of the Dump, when we got there we meet a large area of flames and heavy smoke emanating in the area. When we got there we initially thought it was the Department of Environmental Health, but when we got closer we realized it was the Septic and Sludge Facility of the Water and Sewerage Corporation," he said,
"Two septic lagoons were engulfed in flames and they are very near the dump. There was a heavy amount of oil that was hindering us and this fire is in addition to the tyres and the household appliances that were burning at the dump. So we have smoke in the area from all three of those fires. The one at Water and Sewerage caused the nearby bushes to burn and it started to move toward the dump. So we had to work quickly to protect not only nearby homes, but also BEC's main line. The wind factor was also a challenge and we are talking about a huge area like a quarter of an acre or bigger."
Supt Evans said it took firefighters nearly four hours to get the blaze under control. He said the fire is now in the smouldering phase and is expected to be completely out in a couple of days. The other two fires at the Dump, however, are expected to burn for another few weeks.
Last night residents in the Sandyport, Delaporte areas were complaining of the billowing smoke. "BahaMar is blanketed, even boaters out to sea must be suffering," said one resident. A resident with bronchial problems was in distress.
Supt Evans is advising residents in the surrounding area to seek medical attention at the nearest clinic because of the amount of smoke in the area.
Meanwhile, officials are still investigating the cause of the large blaze at the New Providence Landfill. However, they are still satisfied that it was arson.