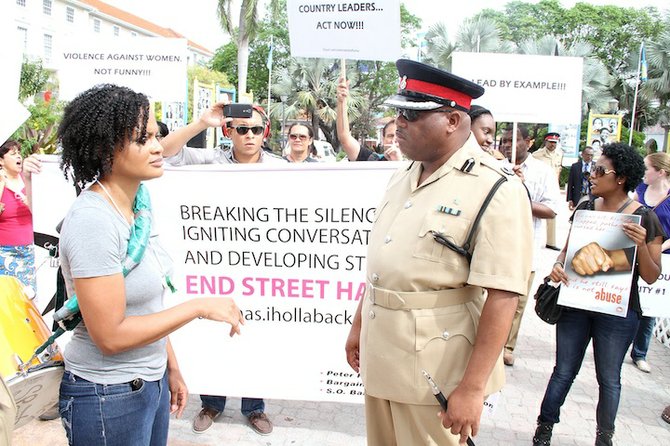 By KHRISNA VIRGIL
Tribune Staff Reporter
kvirgil@tribunemedia.net
PROTESTERS who gathered in Rawson Square yesterday have vowed to hold the government accountable over issues of domestic violence and sexual abuse against women and children throughout the Bahamas.
Two groups – 'Hollaback!' and 'Citizens for a Better Bahamas' – came together to urge Prime Minister Perry Christie to apologise for Tall Pines MP Leslie Miller's comments in which he joked about abusing a former girlfriend. However, Mr Christie was absent from the House of Assembly's proceedings yesterday.
While Mr Miller has apologised several times, in addition to declaring a strong backing of various support groups for battered and abused women, including the Bahamas Crisis Centre, the comments have reignited a debate about the priority of the issue on the government's agenda.
The discussions have also led FNM Deputy Leader Loretta Butler-Turner to publicly state that she regretted not standing and speak out against Mr Miller's comments, which he claims were said "in jest" on February 20.
An organiser of  the peaceful protest, Terneille Burrows, widely known as Bahamian entertainer 'TaDa' said the group of about 30 persons, took action to draw attention to the magnitude of violence against women.
"We were a bit surprised with all the women, children and even men that have been abused in the country," she said. "(We want them to know) that they don't have to feel ashamed or afraid anymore.
"We are here to protect ourselves and speak out as we ask for the government to make sure that the way going forward is sustainable and sensible and it helps us to feel more safe in our country.
"The fact that Mr Miller said those statements in Parliament and the greater fact that the response was that of laughter by some of the Members of Parliament shows that we as a country have a big serious rotten issue at the core of us which allows us to make fun of things that are deadly and dangerous. This should not be accepted or allowed."
Deran Thompson, another organiser, said Bahamians must discontinue the tolerance of all forms of abuses against women. But he stressed that Mr Miller's ease in making the controversial comments is proof that the treatment of women has been placed on the "back burner" when it comes to social affairs.
"I have two daughters," he said, "I have a mother. I have cousins, aunts and I also have a wife. What it did was showed us where this country is at in regards to domestic and sexual violence. There was no outrage. It shows that we don't take it seriously. That is why we continue to have the numbers that we have when it comes to murders and crimes against women."
Persons interested in joining the cause can sign an on-line petition at www.tinyurl.com/violenceisnotfunny.