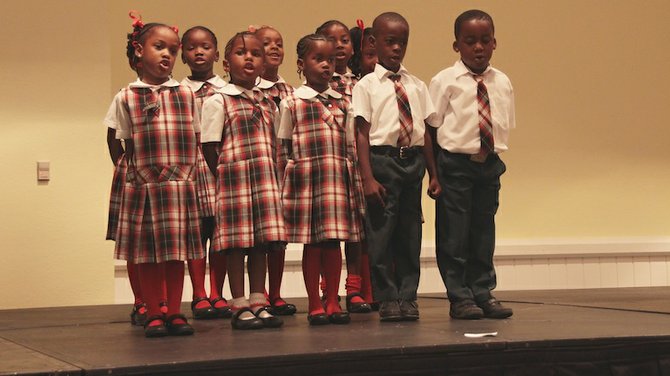 AS the E Clement Bethel National Arts Festival begins its first of two weeks in Grand Bahama, parents of participating preschoolers sing praises for the cultural institution that has been in existence for more than 50 years.
Lisa Turnquest, mother of Sunland Baptist Academy pre-schooler Lia Turnquest, said her daughter worked very hard on her performance and applauded the Festival for giving her the opportunity to show what she is capable of doing.
She has been practicing for a number of weeks and just to see her perform on stage with no nervousness – and so calm and poised – I am so very proud of her," she said.
Her husband, Lionel, agreed and said that it was a "bit overwhelming".
"Seeing our daughter perform for her very first time on the stage, I feel very proud to see her grow to this stage already at a very early part of her life," Mr Turnquest said.
"There is nothing more I can say about that," he added while looking down lovingly at his smiling daughter.
Lawanda Turner, mother of Sunland Baptist Academy pre-schooler Antwanique Turner, said that her daughter performed her two recitations "very well" and she was proud of the way she spoke so clearly and confidently on stage.
"This is my first time being to the Festival," she said. "I have never been to one before. I feel that all the children did well, being that they are youngsters and remembered such a large part like they did.
"It was a good experience," Cordelia Armbrister said about her son and Bahamas Total Education Centre pre-schooler Kayden Ferguson's performance. "I felt proud because it was the first time. I helped him with his practice and he did so well. He enjoyed himself."
Kindercare Learning Centre pre-schooler Madison Davis also had both of her parents watch her recitations. They voiced their pride in her performances on the stage that day, Shanese Davis said Madison has this opportunity and even if she does not win nationally she is so creative and expressive that it is wonderful just to see her.
"We are very excited," her husband, Keno, added. "This is a good way to express themselves and we should never stunt their creativity."
Mrs Turner commended the Festival for having adjudicators like Val Maura judging the participants' performances.
"It's good that they know so much about their work," she said. "It's better that the children learn from someone who has the experience and know how to perform."
Mrs Turnquest added that she feels "fabulous" about the National Arts Festival making it possible for her daughter the showcase her talent because she remembers being in the Festival when she was a girl.
"To see that it is still going on, I am really, really excited," she said. "It is a wonderful thing for the children. It teaches them confidence and poise and, outside of the academics, the arts is a good instrument in the development of children.
"It is actually an exciting event," Mr Turnquest added. "My nieces have been going for years and they have all been performing and to see my daughter now coming through makes my heart swell. I am glad to see that she has taken interest in it and she has done very well."
"Actually, I was a part of the Festival, too, in the dramatised reading portion when I was at school (CW Sawyer Primary)," Mrs Davis noted. "I am just happy that it is still around. Kids need stuff like this to showcase their creative talents."
Mrs Turner added a sentiment that was a "given" for most of the parents that day.
"I want her to know that I am so proud of her and she will get the treat that I promised her," she said with a smile.
More like this story