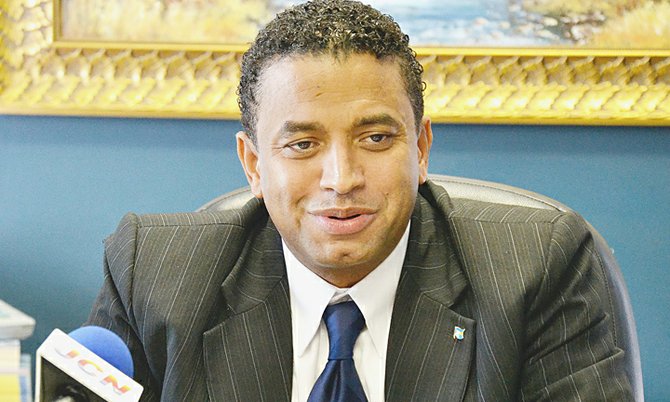 By KHRISNA VIRGIL
Tribune Staff
Reporter
kvirgil@tribunemedia.net
BRANVILLE McCartney, Democratic National Alliance leader, says the government's consideration of  a new Parliament Complex and Prime Minister's residence at this time is "irresponsible".
Noting the country's fiscal constraints, unemployment numbers and considerable social ills, Mr McCartney told the Big T yesterday that it was time for the Christie administration to get serious about governance.
He was responding to Prime Minister Perry Christie's announcement on Thursday that he had planned to take recommendations for both buildings to a Parliamentary committee as soon as possible.
Mr McCartney said: "I am very surprised that this was even a topic of conversation at this time. Because we are in a very dire situation. The real focus has to be getting people back to work, making sure we have a safe Bahamas, enhancing our education, and ways to lower the national deficit.
"We have persons who are constantly losing jobs in main industries, namely tourism, banking and finance. We have seen where the mortgage relief programme is nowhere near a success, people are still losing their homes and crime is still out of whack.
"I would just love for them to get to the good governance part of their time in office and stop embarrassing the hell out of this country by the actions of the Prime Minister and his merry men."
While Mr McCartney said he agrees that a progressive
country like the Bahamas should have a state of the art Parliamentary complex and home for Prime Ministers to live in if they opt to, he said the government must seriously consider whether it can be afforded and if the decision should be a priority.
Mr Christie told members of his Cabinet along with opposition MPs on Thursday that it was an appropriate time to consider the matter especially regarding locations for both facilities as New Providence currently sees a spark in new developments.
He was speaking during the opening ceremony of the Post Election Seminar – Bahamas Branch of the Commonwealth Parliamentary Association at the Atlantis Resort.
Mr Christie said it was also his intention to ensure that the new complex allowed for each elected official to have an office. The new complex will also house the Senate among other things, Mr Christie said.
It is not yet known how much the new buildings could cost taxpayers.