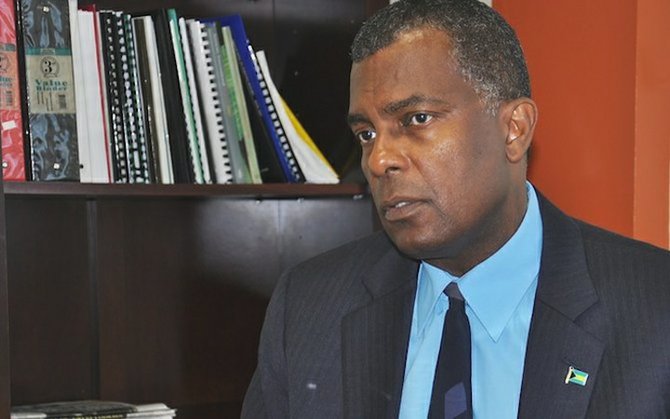 By AVA TURNQUEST
Tribune Staff Reporter
aturnquest@tribunemedia.net
REPORTS that Bahamians have been granted asylum in Canada should not be viewed as a condemnation of the country's human rights record, Foreign Affairs Minister Fred Mitchell said yesterday.
He added that the Bahamas has granted asylum to refugees from "a number of countries", including a Commonwealth member state, for political reasons.
Mr Mitchell said: "I do not think that it means anything in particular save that when another country makes an observation about the treatment of your citizens it raises a concern.
"A distinction must be made between a general condemnation by Canada and a decision for a particular asylum seeker. The standard in the treaty is 'a well grounded fear of persecution.' Each applicant has to make out that case, that does not condemn the country.
"Countries," he said, "can make valiant efforts to eliminate discrimination and still people will find a well grounded fear. What is clear in the field of human rights, our work is never done."
Last week, The Tribune revealed that at least 16 Bahamians in the past three years have been granted asylum in Canada because of their fear of persecution in the Bahamas.
Sources could not reveal the terms under which the 16 individual claims were granted, but the Canadian government considers applications based on race, religion, political opinion, nationality, or membership in a social group, such as women or sexual orientation.
Following last week's article, The Tribune has been contacted by two persons who were granted asylum on the basis of sexual orientation, and received anecdotal reports of one person who received status for economic reasons.
On the matter of Lesbian Gay Bisexual and Transgender (LGBT) rights, Mr Mitchell pointed out that sexual behaviour associated with same sex relationships was decriminalized more than two decades ago.
"It is always disturbing," said Mr Mitchell, "when another country, particularly one's friends, views what transpires in your country in a certain light. However, the criticisms are not new since the annual US Human Rights reports claim that there are allegations of discrimination based on orientation. It is not a general condemnation of the country."
He said: "In reviewing the suggestions of the Universal Periodic Review: Uruguay, the UK, New Zealand, Canada, the USA, and the Netherlands, and France made the same observations in the list of recommendations as an area in need of reform."
Based on official policy, Mr Mitchell maintained that "there is no official discrimination against people because of their sexual orientation".
However, he noted that "official discrimination" must be differentiated from the social and religious beliefs held by many in the country.
"Our record," he said, "is clear that as official policy, the Bahamas does not discriminate against gay and lesbian people. There is a continuing argument in the country over social discrimination and whether this requires special measures in law to rectify this. The debate continues and in a democratic society this is a healthy debate."
He added: "Generally our human rights record continues to be good and we can write similar reports with criticisms about all of those countries and various aspects of the life in their countries and their human rights records. However, the important point is that we do not as a matter of official policy practice social discrimination against LGBT people."
Canada has confirmed that it does not share information with any other government concerning its asylum requests.