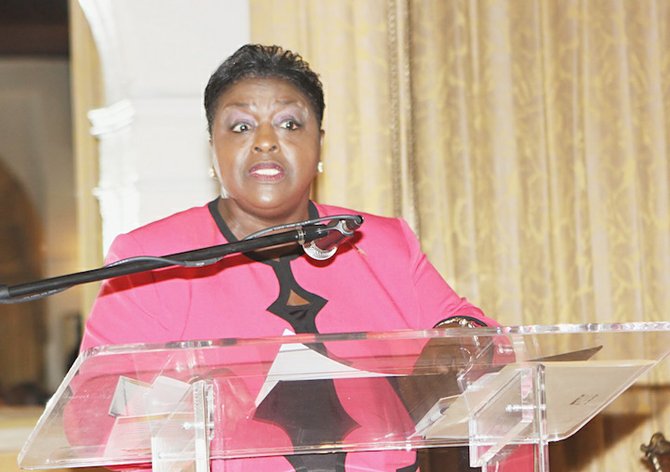 THE Ministry of Social Services and Community Development and the Department of Social Services will celebrate its 50th anniversary this year by hosting events designed to bring awareness about the significance of social work.
The move was announced by Minister of Social Services and Community Development Melanie Griffin.
The advent of self-government in 1964 resulted in the establishment of Ministerial Government in the Bahamas for the first time and this saw the formation of a Ministry of Welfare and the nucleus of the Department of Social Services. The late Eugene Dupuch, QC, was the first Minister with responsibility for welfare.
Minister Griffin said a committee, headed by former Permanent Secretary, Vylma Thompson-Curling, has been appointed to develop events to mark 50 years, in an effort to raise the public profile and underscore the value of social workers.
This month's celebration of Social Workers Month was the first activity, with the grand finale scheduled for the autumn.
"I wish to express appreciation to Mrs Vylma Thompson-Curling, retired Permanent Secretary, who during her tenure was very instrumental in advancing social services in our country, for serving as chairman of the planning committee for Social Work Month and the 50th anniversary celebrations and the members of the committee who served with her," Mrs Griffin added.
Mrs Griffin said social workers continue to contribute to every aspect of Bahamian society, including disaster management and relief; family services, rehabilitation and welfare; early childhood development; residential care; health social services; parenting matters, senior citizens matters, disability matters, child protection, community assistance and social assistance, including areas such as food assistance, rent assistance, uniform assistance and electricity payments, among many other services.
"Social work is a profession that requires a comprehensive knowledge of human development and behaviours and of social, economic and cultural institutions and systems," Mrs Griffin said. "The practice of social work encompasses interventions at the individual, group and community levels.
"Those people who have benefitted from the work these men and women do on a daily basis know of the value of social workers to our country and people. They do it automatically and are on call all hours," Mrs Griffin added.
Minister Griffin said the practice of social work will continue to be relevant and necessary to respond to the changing social needs of the citizenry.
"You have proven your resilience over the years to adapt to changing situations and different needs; hence I am confident that you will rise to the challenges that will come in the future. I implore you, therefore, to keep pace with new trends in the field and expand your knowledge as you continue to practice your profession with pride, passion and dedication.

"All of you would have made sacrifices both of a personal and financial nature over the years because of your choice of career. Some of you would have turned down more lucrative and less stressful positions because of your passion to help others and the call that lured you into social work.
"I am sure that most, if not all of you, would have questioned at one point or another if it was worth it, and obviously the answer was 'yes' as you are here today. I commend and congratulate you all for your years of committed service," Mrs Griffin added.