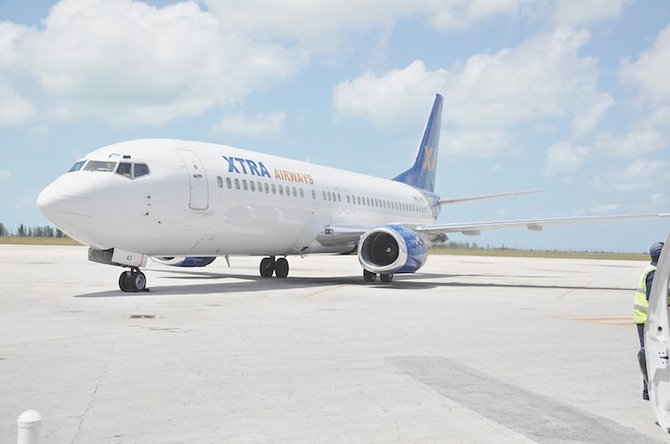 By DENISE MAYCOCK
Tribune Freeport Reporter
dmaycock@tribunemedia.net
FREEPORT – Some 108 passengers from Baltimore, Maryland, arrived in Grand Bahama on Thursday marking the beginning of new non-jet services from eight US cities to the island, this summer.
Ministry of Tourism officials and other stakeholders rolled out the red carpet and greeted the guests as they disembarked the 737-400 aircraft.

Xtra Airways, a 150-seat airline operated by Sunwing, made the inaugural trip to Freeport, arriving around 2:30pm at Grand Bahama International Airport.
Minister for Grand Bahama, Dr Michael Darville, Ministry of Tourism Grand Bahama general manger, Betty Bethel, Gabriel Varela, general manger of Memories Grand Bahama Beach Resort, and Russell Miller, chairman of the Grand Bahama Island Tourism Board, were present for the arrival.
This is the first of several flights that are expected to arrive on the island from May 1 to October 31. The second flight will arrive from Newark, NJ, on Friday.
The other flights are as scheduled from Birmingham, AL, May 3-August 6; Richmond, VA, May 4-August 7; Columbus, OH, May 5-August 8; Memphis, August 11-October 25; Raleigh/Durham, NC, August 12-October 26; and Cincinnati, OH, August 13-October 31.
The services will be shared between Bahamasair and Xtra Airways.
"It is a big day and we are very excited about this," said Betty Bethel. "This is tremendous because this service and the flights from Canada total an additional 100,000 seats to Grand Bahama."
According to Ms Bethel, they expect close to 500,000 passengers through the combined flights from Canada and the US.
"At the end of the day revenue generation is going to be at least $50m, so this is huge for us," she said.
"It is the foundation that we will be revitalising the destination. We will also be looking for more markets to promote GBI," she said.
Ms Bethel said guests from this new service will be staying at various hotel properties, including Memories Resort, Grand Lucayan, Viva Fortuna, and Pelican Bay.
Vacation Express is the US partner with Sunwing that will be bungling packages, which includes air, hotel accommodations, and ground transportation.
Gabriel Varela, general manager of Memories, welcomes the new service. He said the 300-room resort is running at 60 per cent occupancy.
"We are a four-and-a half star hotel and we will try to get to five star. We need to do some improvements, but we are in the process of doing that… and we are very close."
Mr Varela took over as general manager two weeks ago. He has extensive experience in the hotel business, working at several resort properties in Mexico, and in Cost Rica, Guatemala, Cuba, and Jamaica.
Russell Miller was pleased to see so many passengers arriving from the Baltimore area.

"We had almost a full flight from this first flight, and tomorrow the flight from Newark will be coming in with even more (passengers) from that area. These new (gateways) from Baltimore and Newark are very important to us, and the fact that the load is running at almost 100 per cent is a good indication," he said.

Dr Darville said the new air service will greatly benefit the island, which is expected to earn some $50m in revenue.