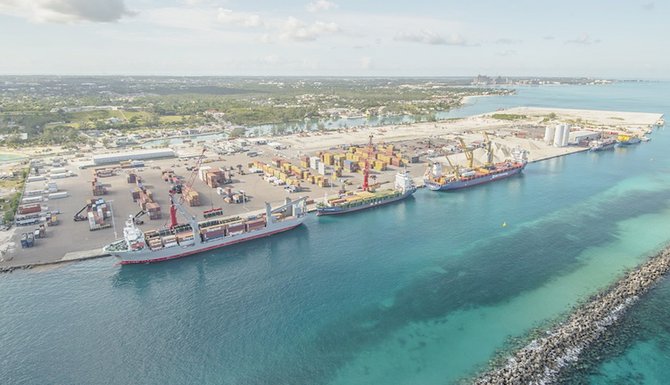 By NEIL HARTNELL
Tribune Business Editor
nhartnell@tribunemedia.net
The Nassau Container Port will likely increase its tariff rates by July 1, but its top executives say the private sector is unfairly blaming it for 30-40 per cent freight cost increases.
Michael Maura, chief executive of Arawak Port Development Company (APD), the port's operator, told Tribune Business that it would be unable to "indefinitely" maintain tariff rates that had remained the same since operations began almost two years ago.
While BISX-listed APD's Board and management have yet to determine the extent of any tariff increases, Mr Maura said a "misunderstanding" of shipping industry economics had resulted in importers and businesses blaming the Arawak Cay port for an increase in landed goods costs.
Pointing out that the shipping companies serving Nassau had to make a profit and cover their costs, Mr Maura said the sector's rates were on the rise again after recent consolidation had eliminated much over-capacity.
Arguing that it was the shipping companies, not APD or the port, that were responsible for recent freight cost increases, Mr Maura said rate rises were impacting all Caribbean markets - not just Nassau - in a story being repeated around the world.
And APD executives told Tribune Business they were doing their part to keep shipping rates low, with the Arawak Cay port having cut vessel turnaround time by 50 per cent and permitted larger, more efficient ships to serve the market.
And they also revealed that Maersk, the world's largest shipping line, had made preliminary inquiries in a bid to seemingly 'sound out' operational and market conditions in Nassau.
Still, Bahamian companies are likely to be uneasy about the prospect of an increase in the Nassau Container Port's rates given all the other cost rises (and potential Value-Added Tax) they are having to deal with. It will also do little to improve the cost of living for Bahamian consumers.
Mr Maura confirmed to Tribune Business, in an exclusive interview, that holding the Nassau Container Port's rates flat with 2012 start-up levels "can't continue indefinitely".
"As we look to next [financial year], it's likely there would have to be adjustments to the tariff," he told this newspaper. "It would have to be in effect as of July 1.
"To date, we would not have increased our tariffs since we came out with that [10-12 per cent internal rate of return (IRR] margin."
The agreement between the Government and the port's 20 private shipping company founders stipulates an annual 10-12 per cent IRR target. This is designed to balance the need for APD's shareholders, including the 20 per cent public component, to enjoy a decent investment return with ensuring the port does not become a major cost burden for consumers and businesses alike.
The tariff rates required to achieve this IRR can be adjusted either up or down, with total cargo throughput and operating cost increases the key factors impacting them.
Mr Maura, though, stressed that it was the shipping companies, not the Nassau Container Port, that were responsible for freight rate increases that Bahamas Aluminium Manufacturing's principal, Andrew Rogers, said amounted to 30-40 per cent over the past 18 months.
The APD chief executive laid out the evidence to back his case, producing three different cost increases implemented by Tropical Shipping - one of the two main carriers serving Nassau - in a two-month period between December 2013 to January 2014.
Apart from a $75 hazardous trucking surcharge, Tropical also increased its US port security surcharge for less-than-container load (LCL) shipping by between two-four cents. This applied to all its Caribbean markets, including the Bahamas, the Dominican Republic and Guyana.
And a general rate increase, implemented on March 2 this year, has also impacted all Tropical shipments to Nassau and Freeport, plus the remainder of the carrier's Caribbean destinations.
"Rate increases are customary. They happen every year. Shipping companies have to pay their bills," Mr Maura told Tribune Business. "What happens in our world is that people say: 'There's an increase. That's the Nassau Container Port.
"What's happening is that shipping companies are levying rate increases across all markets. I can promise you they're going to continue. It's a lack of understanding, where people misunderstand what a bill of lading says."
Mr Maura and Richard McCombe, APD's operations manager, said bills of lading typically covered a shipper's administrative costs, port charges and Business Licence fees. "It's not specific to the Nassau Container Port," the APD chief executive added.
"People are throwing information out without a true understanding of shipping markets. Our challenge and our reality is that few people understand the industry. Few people understand understand the economics of shipping and what has happened in the industry collectively for the last four-five years."
Again using Tropical Shipping's performance to illustrate his case, Mr Maura said the company's financials showed it had yet to recover to pre-recession levels.
The carrier's revenues fell for successive years between 2008 and 2012, dropping from a high of $425.2 million to a low of $342 million in 2012. Only in 2013 did Tropical's top-line recover, rising to $365 million - a number still 17 per cent off the 2008 high.
And, between 2008 to 2010, Tropical Shipping's operating income fell from $39.3 million to $14.4 million, a fall of 63 per cent in two years. "That's indicative of what happened in the industry," Mr Maura said.
"Tropical is a well-run company. That is a story you'd find in every single market around the globe. From an industry perspective, people are still kind of licking their wounds. So much energy and effort has been focused on right-sizing the industry as opposed to expansion."
The drop-off in cargo demand, and subsequent over-capacity in the shipping market serving Nassau, has resulted in a five-year process of shake-out and consolidation. Mr Maura said both Seaboard Marine and Pioneer Shipping closed their doors before the Nassau Container Port became a reality. And since the port's founding, Atlantic-Caribbean Line (ACL) has stopped operating, while both Crowley and C&G Shipping have exited the Nassau market.
Mr Maura said that of the two major lines serving Nassau, Mediterranean Shipping Company (MSC) was the world's second largest cargo carrier, while Tropical Shipping had a 50-year history in the Bahamas. Other participants include Abaco Shipping, Betty K and The Mailboat Company on the 'break bulk' side.
"This market is fortunate to have two very strong players," Mr Maura said of MSC and Tropical. "The other side of that is whoever else does come has to be a major player to weather the storm.
"Tropical and MSC will fight like hell to hold on to what they have. It takes a special kind of line to enter this market. It will have to be along the lines of a Maersk."
Mr Maura disclosed that there were some signs this might happen, telling Tribune Business: "We actually have had Maersk asking a few questions. Maersk is the number one line in the world."
MSC's office in the Nassau Container Port's newly-built administrative building is set to open in the next few weeks, with APD also holding another major slot for another shipping line - a clear sign it believes there is room for three major players in the Nassau market.
"We've had brokers, truckers approach us to try and rent that space, but we're trying to hold that for another line," Mr Maura said. "That's going to remain vacant until such time as we see a major player arrive."
APD executives said the Nassau Container Port's efficiencies were also helping to contain freight costs. "The turn time with vessels has almost been cut in half," Mr McCombe told Tribune Business.
"Our average is under six hours. It used to be 12 hours. Just the efficiency of the vessel alone, where they make their money, is huge."
And Mr Maura added: 'We've seen a change in vessels. This facility has presently seen ships go from 200 feet, carrying 140 [containers], to ships as long as 600 feet with 11,000 twenty-foot equipment units (TEUs).
"It gives carriers greater flexibility in the use of their resources, positively reduces their operating costs and reduces their need to increase rates by a greater amount."
The APD chief executive told Tribune Business that the latest module upgrade to the port's Navis computer system will enable to it to track, and pinpoint, the location of every shipping container on the dock come July 1 this year. This will also allow for the more efficient reloading of vessels calling at Arawak Cay.
"It makes us more efficient, and the carriers more efficient," Mr Maura said, "and allows the truckers to spend less time in the port, allowing them to make more runs in the day."