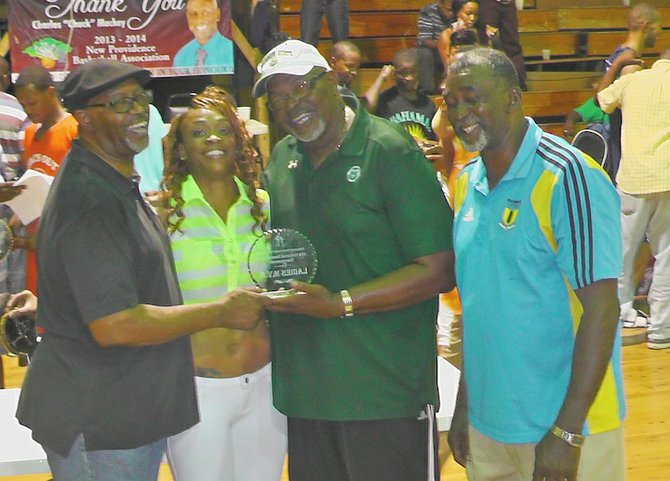 By BRENT STUBBS
Senior Sports Reporter
bstubbs@tribunemedia.net
THE Career Builders Lady Cheetahs tasted the thrill of victory as they pulled off another sweep to regain their Bahamas Basketball Federation's ladies' national championship title.
Back in the spotlight after missing last year, the Lady Cheetahs wrapped up their best-of-three championship series against the Lady Knights with a 49-39 decision at the AF Adderley Gymnasium on Friday night.
The Career Builders won the opener 59-56 on Thursday night. "We felt that we would have gotten the sweep. Taking nothing away from them, I was very impressed with what Grand Bahama is doing with their women's league," said Lady Cheetah's coach Mario Bowleg.
"We played two close games with them. They gave us a good run, but we knew at the end that we were going to pull it off."
Phylica Kelly had a game high 29 points with 12 rebounds, three assists and three steals in the clincher. Rudann Simms had eight points and four rebounds and Linda Pierre added five points and five rebounds.
"I was very pleased with my performance because the first game, I didn't perform at my best," Kelly said. "I wanted to come out and bring a little more juice so we could perform a lot better to pull it off. I got the MVP, but I didn't do it by myself. It was a team effort."
For the Lady Knights, Tiyanna Davis had nine points, Latoya Hamilton had eight points and nine rebounds, Deandra Outten seven points and seven rebounds and both Teronya Wildgoose and Abigail Davis chipped in with six points. D
avis, however, paid a bigger price when she went down with an injury.
Wayne 'Snake' Stubbs, back on the sidelines as a coach after a long hiatus as a former player, said his team played very well.
"We had a good mixture of veterans and high school players," he said. "I was proud of them. I think if they had listened a little more, we would have done a lot better. We were right in the games, but a little bit of inexperience and fatigue played a key role. But I was proud of them.
"When we lost Abigail, we lost a lot of experience because a lot of the younger girls were relying on her. The Cheetahs' team is good. I like what I've seen with them. I think women's basketball is on the way up. I just have to go back and work with my girls and hopefully we can get back here next year and win it all."
Lady Cheetahs' centre Linda Pierre said it was good to see the rivalry continue, but their quest was to get the title they won back in 2012 when they swept Grand Bahama in Bimini.
"They are competitive, but our team hasn't played in five weeks. That was when we won the New Providence title," she said. "We didn't expect to play as well as we did, but it was fun. We just wanted to win the title. We did what was necessary to win it."
Cheetahs 59, Lady Knights 56
Phylica Kelly had a game high 14 points and five rebounds in Thursday's opener. Christine Sinclair had 12 points, four assists, three rebounds and two steals, Rudann Simms had 10 points and 13 rebounds and Linda Pierre added eight points and seven rebounds. Kizzie McDonald had seven points.
Abigail Davis scored 13 points with three assists, Teronya Wildgoose had 12 points and nine rebounds, Latoya Hamilton nine points and six rebounds, Larikah Russell eight points and six rebounds and Deandra Outten seven points and ten rebounds.
The Lady Cheetahs led 14-12 at the end of the first quarter, but watched the Lady Knights rebound to go up 28-23 at the half. At the end of the third, the Lady Cheetahs were back out front, 45-43, and it was a close encounter the rest of the way in the fourth.