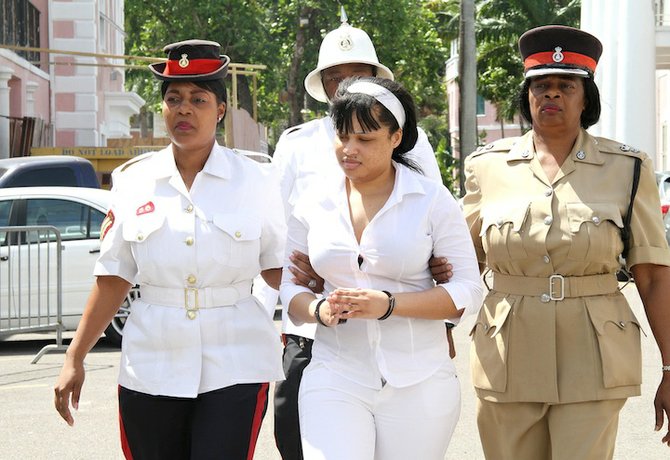 By LAMECH JOHNSON
Tribune Staff Reporter
ljohnson@tribunemedia.net
THE sentencing of a woman convicted in the Bahamas' first human trafficking trial has been delayed by a prosecutor's request that the Director of Public Prosecutions be present.
In yesterday's proceedings before Senior Justice Jon Isaacs, Jiaram Mangra, Chevanese "Sasha" Hall's lawyer, told the court that he had received a copy of the probation report that had been prepared with respect to his client and was ready to proceed.
Crown prosecutor Eucal Bonaby, however, insisted that DPP Vinette Graham-Allen be present for the sentencing and requested the matter be adjourned.
"The DPP is not in the jurisdiction and she's indicated earlier her wanting to be present for this matter," he said.
"I know that she has an appearance before the 25th of June and because of the nature of this matter, I will ask for an adjournment so that the DPP can be here," he told the judge.
Senior Justice Isaacs asked Mr Mangra if he had any issues with the request and the defence lawyer said that he understood "(Bonaby) was not the principal prosecutor in this matter," but "we are ready to proceed."
"She (Hall) needs this matter to be resolved as early as possible because it will impact her ability to instruct further while being incarcerated," Mr Mangra added.
The judge noted his submission and said that he would grant the adjournment to June 25, remanding the prisoner until that time.
A jury unanimously convicted Hall of withholding the passports of two women and forcing them into prostitution. Hall was arraigned last February in the Magistrate's Court on four counts of trafficking of a person, and two counts of unlawful withholding of papers, alleged to have been committed between January 10 and 28, 2013.
When formally arraigned in the Supreme Court, she pleaded not guilty to all of the charges.
On March 26, she was found guilty on four counts of trafficking in persons (9-0 on all) and two counts (8-1, 6-3) of withholding identification papers. Hall, who did not visibly react to the announcement of the guilty verdicts, had nothing to say when Justice Isaacs asked if she wanted to say anything before sentencing was passed.
However, sentencing had been deferred for the 24-year-old foreign national until yesterday because her lawyer requested that a probation report be prepared for his client's plea in mitigation and to assist the court in determining a proper sentence.