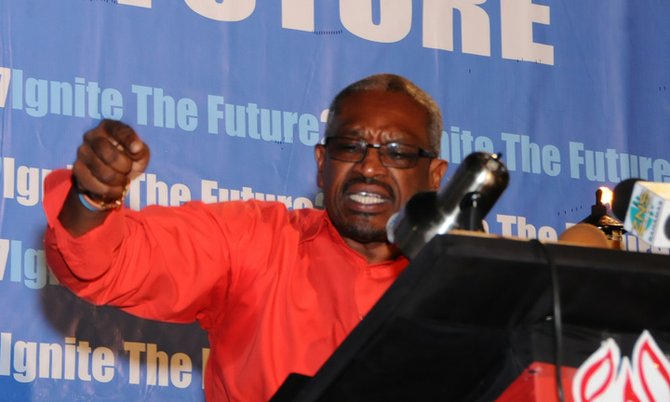 By KHRISNA VIRGIL
Tribune Staff Reporter
kvirgil@tribunemedia.net
OPPOSITION leader Dr Hubert Minnis has accused the Christie administration of disguising crime numbers as a rise in criminal activity throughout the country continues. Dr Minnis insisted to party supporters that while murder has dramatically increased, a number of unlawful killings are being left as "unclassified" for weeks and months on end by authorities.
"What they have delivered is a record increase in crime," he said, "disguised in 'mumbo-jumbo' talk as miraculous decrease in crime. Not even their most ardent, blind supporters believe that.
"House burglaries, car thefts and robberies are all up. Murder is dramatically up. And to disguise the rise in crime, increased numbers of unlawful killings are being left as "unclassified deaths" for weeks and months on end. We have just entered the second year and already the murder count tops 40."
He was speaking during an FNM rally at the party's headquarters on Tuesday night.
Dr Minnis was referring to several recent incidents which include a man found burned in a car earlier this year, an elderly man found dead with a stab wound in his back in May and an incident where four bodies were burnt with car tyres on top of them at Anguilla Cay. That discovery was made in April.
"Still, subtracting all of those cases, the murder count is still up. The newspapers say it's up to 43. My count brings it to 47; the four Anguilla Cay bodies take it to 51. And we're in the first week of May. The list of persons suffering grievous bodily harm, but still alive today.
"We're being listed among the dangerous vacation destinations. But we still don't know how the nolle was granted in the illegal gun possession case involving the former client of the Attorney General. Who authorised that? And then they claim they are concerned about the smuggling of weapons into our country. We still don't know who authorised the wedding in the police station over the objection of the Commissioner of Police. How could this happen in the Bahamas?"
Dr Minnis further blasted the government for its inability to control crime, despite campaigning on a promise to do so. "Most murders are taking place in the Prime Minister's and the Minister responsible for the Police's constituencies. That's the heart of their heralded Urban Renewal 2.0 programme. If the Prime Minister and the Minister of National Security cannot control crime in their own constituencies with their people – people they know, how do they expect us to believe that they can control crime for the country. They can do nothing to impact crime in their small constituencies."