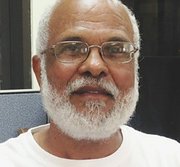 By LAMECH JOHNSON
Tribune Staff Reporter
ljohnson@tribunemedia.net
A FREEMASON believes that his colleagues should be more vocal on the escalating crime and violence threatening the Bahamian way of life.
Speaking to The Tribune yesterday following his successful civil action in the Supreme Court seeking redress for his suspension and expulsion from the Prince Hall Grand Lodge, Eugene Nairn said that the current crime situation in the Bahamas "is terrible."
"My family were victims of crime," he said, "there was an attempt to take my son's life because he was driving a car. He's now paralysed from gunshot wounds, ok? And this made a 180 degree turn for my family in June of 2012."
In response to the number of murders in New Providence over the past few weeks, the Royal Bahamas Police Force conducted several walkabouts in inner city communities with the latest yesterday afternoon in Mason's Addition.
Superintendent Stephen Dean, director of the Crime Prevention Office, said the walkabout was intended to reassure residents in the area of the police's commitment to reduce crime.
Prime Minister Perry Christie recently said the government is developing new crime fighting strategies to win the "war" that they are fighting against "hostile young men" in the capital.
Mr Christie said he has had several meetings with high ranking officers of the Royal Bahamas Police Force in the hopes of developing new, more effective methods of "curbing, stopping and eliminating crime".
The Prime Minister also admitted that certain things that could have been done to fight crime have not been done, but he said the Minister of National Security, Dr Bernard Nottage, is working "with due speed" to execute these schemes.
Mr Christie also said that the government is open to suggestions and is considering all crime fighting strategies that have been presented to them and that crime must be a comprehensive effort, not just by the government, but by the country, the church and the NGO's.
Regarding the crime problem, Mr Nairn said yesterday that he would "like to see Masonry make a statement."
"These are men who are heads of families but there is no statement whether they might be behind closed doors but there are no statements coming from any of the organisations to see how we could assist the young men in our country to refrain from violence."
"We have to see what we can do. How can we assist any other organisation? For masonry in the past, people looked up to these men. They thought it was something prestigious to be in and as they parade through the streets, we used to line off on the streets watching the Masons pass and making positive remarks about wanting our children to be successful like them."
"But you don't hear these things anymore," Mr Nairn said.