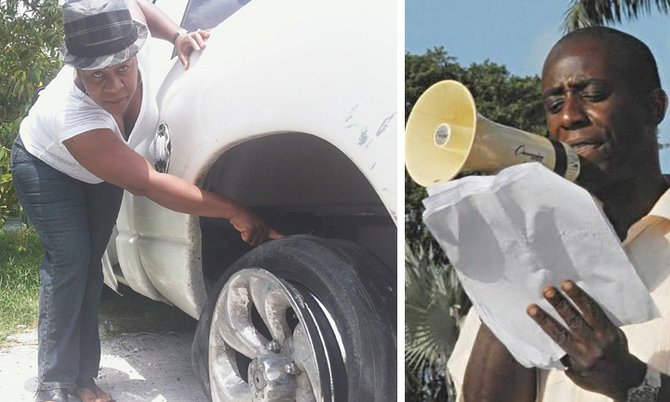 By AVA TURNQUEST
Tribune Staff Reporter
aturnquest@tribunemedia.net
A HIGH-speed chase with undercover police officers has led a traumatised Englerston community leader to call for licensed handguns.
Mervin Darling, former deputy chairman of the Workers Party, alleged that plain-clothed officers in an unmarked vehicle shot repeatedly at his car as he drove home early on Friday morning.
Mr Darling told his story to The Tribune hours later, after first attempting to file a complaint at police headquarters.
The 40-year-old activist, one of the organisers of Freedom March, said he is now convinced of the need for Bahamians to be armed and trained to protect against rights violations, which he described as casualties of a criminal war zone.
He said: "To see it all in the day time, (Friday) morning, my Oakley's are missing, I made a $100 withdrawal from the bank, that's missing, and all my radio wires are completely pulled out. I have two shot-out tyres and a fear of the police."
"This situation that occurred is why the police and the Prime Minister, who has now declared a war on crime, have realised after all the casualties of war, 40 years later, there is a war and crime is the enemy. When the person responsible for the resolution becomes the aggressor, now is the time for the Bahamian people to be armed."
Mr Darling is employed as a Food and Beverage consultant for Bahamas Hospitality with responsibility for food and bar service management of various restaurants.
He is also the leader of a fledgling B class Junkanoo Group, the Englerston Pioneers, who plan to make their debut at this year's Boxing Day parade.
On the eve of the incident, he had just finished work at Traveller's Rest.
Mr Darling said: "Every night after I get off, before I go home to my wife I go and check on my mom who is 73, and my grandmother who is 96. She is the oldest living woman in Englerston, her name is Mildred Pinder. After I checked on them, I went by the Village Pub and gave a little shout to my boys, I grew up in this area this is my community.
Mr Darling said he then gave a friend a ride around the corner from the bar and began making his way home sometime around 12:30am.
As he pulled out onto Robinson Road, heading west to East Street, Mr Darling said he noticed a car was very close behind him.
"When I saw the lights come so close behind me I said to myself 'what is this person doing?' So I pressed the gas and then I heard the shot, so I pressed more gas, then I heard 'pap pap pap' and thought what is this, these guys are trying to kill me.
"I didn't panic, but I was trying to get away. I'm driving a Dodge Ram V8."
"The whole time I'm thinking I don't know what's going on, I don't deal with crime. My brakes are good so I did a hard turn on East Street and just floored it. As I reached the corner by Jenco Battery, after Melissa Sears, a police car was pulling out so I just slammed on brakes in front of the police car.
"When I stopped in front of them, they drew their guns on me. But then the guys were still shooting behind me; these guys were coming down the street shooting like, it was like they were Ukranian soldiers or something, so the uniform police turned to draw on them. But the plainclothes guys showed their badge.
"Then they came, stood over me, forced me to the ground; one guy put his foot on my head so my face was in the dirt. All this time they're shouting at me how I'm so stupid, how I should have stopped after I heard the first shot."
Mr Darling said the strategic legalisation of handguns was the only defence against violations because it would force police to identify themselves before encroaching on civil liberties.
The ordeal has severely affected Mr Darling, according to his wife Carolyn Lulse-Darling, who told The Tribune yesterday that the incident has also made her suspicious of crime events in the country.
She said it was distressing to learn that her husband was unfairly criminalised despite his active role in the community.
Mrs Lulse-Darling said: "I feel terrible because these guys are out there and you don't know who they are; this should be taken seriously and those guys should be reprimanded for what they did because this is not right. (Mr Darling) feels very bad about it, the way they treated him like he was a criminal, it sort of affected him psychologically because sometimes he just stops and stares and say 'what if I didn't make it home that morning?'
"(Police) are going overboard and it makes you feel suspicious because a lot of things are happening. How can we be sure that's who they say is doing it if they are taking that kind of measures? How could we be sure and say it's the bad guys doing these things because you don't just open fire on someone like that, even if they were a suspect, you identify yourself or call back up.
"We are upright citizens who go out to make a decent living. For us to be treated like this – it's not right."
While there has been no official response from police The Tribune can confirm that officers are investigating the matter.
On Friday afternoon, several area residents said they saw two female police officers taking photos of Mr Darling's truck at his residence.
Mrs Darling also confirmed that the officers came to assess the vehicle after her husband made a complaint.
Mr Darling said: "This is the scientific, systematic operation of the police. If they had shot and killed me it would have been another drive-by shooting blamed on criminals. I need help, I need to be able to defend myself. It's about citizen security, we need training so that we can be armed. You should have the right to bear a weapon, you should have a right to defend the only thing you have – your life."