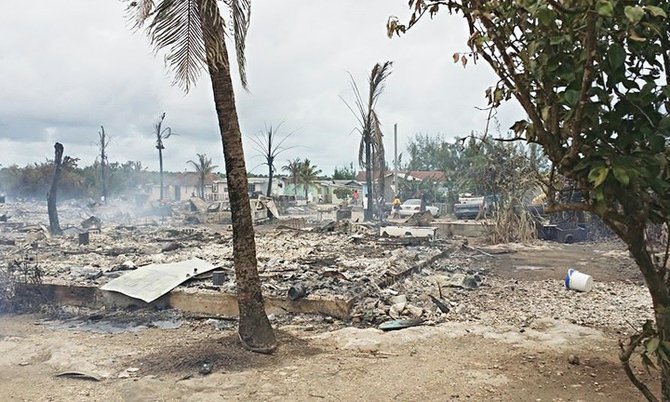 By RASHAD ROLLE
Tribune Staff Reporter
rrolle@tribunemedia.net
ILLEGAL immigrants displaced after an Abaco shanty town fire destroyed their homes last week should be relocated to the Carmichael Road Detention Centre and nowhere else, Opposition Shadow Minister for Foreign Affairs Hubert Chipman suggested yesterday.
He was speaking to The Tribune a day after North Abaco MP Renardo Curry said the government is searching for land to relocate more than 150 displaced residents, including those here in the country illegally.
"Countless Bahamians don't have a place and we are looking at relocating illegals?" Mr Chipman asked. "If they are here illegally they should be sent to the Detention Centre and processed. Various assistance is fine if you're here legally, but if they are here illegally they should be picked out and processed and sent down to the Detention Centre. You don't need temporary accommodation for them. They are here illegally so why would you give them temporary accommodation?"
Mr Chipman said he does not support taxpayers' money being used to provide temporary accommodation for displaced illegal immigrants.
It is unknown how many of the 156 displaced are illegal immigrants, though Social Services Minister Melanie Griffin confirmed last week that some of them are here illegally. She said that illegal immigrants have been reluctant to come forward and be assisted following the fire, which destroyed more than 70 homes in the Sands Banks area.
When asked if illegal immigrants will be among those given temporary shelter on Tuesday, Mr Curry confirmed that they would.
"Anytime you have a tragedy like this," he said, "the government's first priority is a utilitarian effort, providing a temporary shelter to those who would've suffered. The immigration policy is still in force and I'm sure the Department of Immigration will use due diligence to bring under control the immigration problem on the island."
Mr Curry added that the matter will be brought to a conclusion within a couple of weeks. He also noted that the land on which the Sands Banks shanty town was built is private property, whose owners have urged the government to secure it for them.