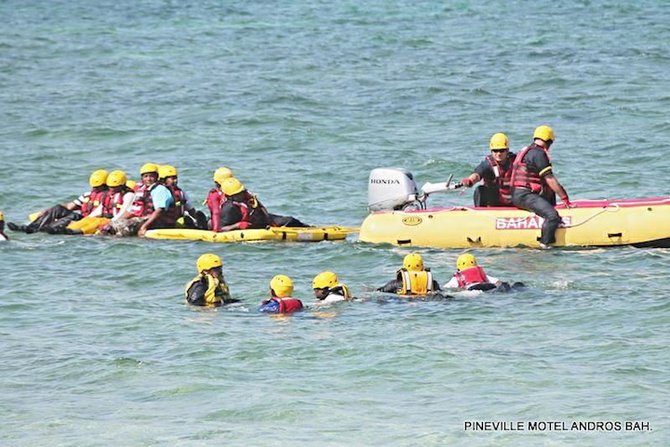 ANDROS has become the latest Bahamian island to receive water rescue training from the National Emergency Management Agency (NEMA). The purpose of the programme is to equip and train a team of individuals on the island to be able to respond effectively to a disaster in nearby waters.

However, NEMA's main focus for the session in Nicholl's Town was to ensure that individuals in the community are properly trained to respond to an aircraft or boating mishap in waters near the coast.
NEMA considered the programme held in Andros a success and it follows recent training exercises in New Bight, Cat Island, and in Clarence Town, Long Island. The total value of equipment donated by the United States Northern Command (USNORTHCOM) - with whom NEMA are collaborating - for phase two of water rescue training is $275,000.
In the exercise at the Nicholl's Town Gospel Chapel Youth Hall 19 participants from the community were taught how to establish and organise a search and rescue programme, handle ropes, hardware and knots, low-angle raising and lowering, simple mechanical advantage and surface water rescue (shore-based rescue assessments, organisation and searches).
The participants included Charlene Whyms, Carson Lundy, Kelson Colebrook, Kirkwood Dean, Tammy Farrington, Stephen Riley, Shane Miller, Owen Julius Hanna and Natalie Pratt, the Royal Bahamas Police Force; Natheria D Pratt and Clorice Taylor-Knowles, Civil Aviation Department; Colin Ingraham, Royal Bahamas Defence Force; Omar Miller, Ministry of Public Works and Urban Development; Johnathan Fowler Sr, Nathaniel Pratt and Wendell Evans, volunteers; Malissa Coakley and Andrea Smith, Department of Public Service; and Navardo J Rolle, Western Air. Thirteen participants received level two certification and six level one.



The class instructions were conducted by four certified water and rope rescue technicians from the United States Public Health Services sponsored by USNORTHCOM. Leading the team was Capt Joseph Hughart with assistance from Capt John Holland, Cmdr Douglas Ebert and Lt Cmdr Kiel Fisher. Sr Lt Sonia Miller and Wendell Rigby from NEMA helped with the facilitation of the training.

Capt Stephen Russell, Director of NEMA, Chief Councillor, Bob Mackay, and Jeffrey Smith, a USNORTHCOM representative, handed out certificates. Capt Russell explained the importance of having such a team on Andros and encouraged the new rescue team to continue to work together and practice what they were taught to further strengthen their ability to respond to a disaster.