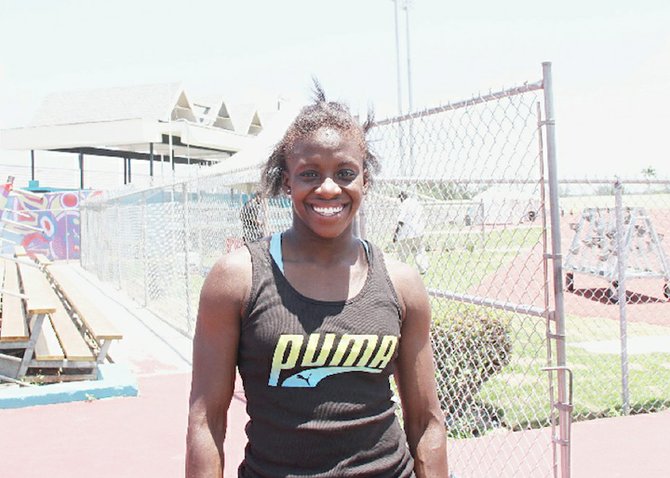 By BRENT STUBBS
Senior Sports Reporter
bstubbs@tribunemedia.net
WITH the dress rehearsal almost over and done with, members of Team Bahamas are eagerly awaiting their opportunity to compete before the home crowd at the inaugural International Amateur Athletic Federation (IAAF) World Relays this weekend.
For some, it's their first major international competition, especially here at home. But for the majority of the 30-plus squad, the biggest thrill is going to be competing at home in the newly refurbished Thomas A Robinson National Stadium.
All of the Bahamian athletes were in attendance at a workout session on Tuesday at the original Thomas A Robinson Stadium, with the exception of Chris 'Fireman' Brown, Michael Mathieu, Shaunae Miller, Anthonique Strachan, V'Alonee Robinson, Cache Armbrister and Christine Amertil, who are all expected to be in camp by today.
Some of the athletes, as they went through their practices under the supervision of coaches Rupert Gardiner, Fritz Grant and Roger Charlton, were not just excited about the home court advantage, but the fact that they will get a chance to showcase the talent from the Bahamas in the biggest global relay meet to be held on the planet.
JAMIAL ROLLE,
Sprinter
On the event being hosted here: "I'm excited about the relays being here because it's home. This is a big thing in itself. We get to compete in front of our family and friends."
On the expectations for the team: "I expect the team to go out there and do their best. We're looking forward to making an impression. Unfortunately, it's not the team that we all want because some of the guys are missing, but it's still a good team."
On his preparation: "I have some stuff going on, but I'm still positive about it. We will just have to wait and see."
Sprinter Sheniqua 'Q' Ferguson
On having the meet at home: "It's always good to come and compete in front of the home crowd. So it's an advantage when you run in front of the home crowd. You have that support and it gives you more incentive to go out there and run faster because you want to represent your country proud. You really don't want to disappoint the Bahamian people. So it's good to run here at home. I can't wait."
On the outlook of the team: "The team is great. We have a lot of great people, a lot of fast people selected, so we just have to go out there and execute and perform to the best of our abilities."
On her performance: "You can always expect my best. I'm going to go out there and give my best and my all like I always do. Hopefully I can run a good leg on whatever leg I'm on. Anything could happen, so I just want to go out there and give my best and help out the team in whatever way I can."
Sprinter Nivea Smith
On returning home: "I'm pretty excited about being here and competing in this calibre of meet at home. It should be a lot of fun."
On her preparation: "It's been going pretty well. I'm trying now to get ready to compete. I want to run a good leg on the relay. There's always pressure competing at home because they always have a lot of expectations, but there's no pressure for me. I'm here to have fun. It's all about the relays. I'm ready to go."
Sprinter Warren Fraser
On the meet being at home: "It always feels good to compete at home. I've never competed at an international meet at home before, so it should be exciting. I just hope the junkanoo is there and they have the people excited. We have to perform for the home crowd."
On the team's expectations: "We have a lot of people dealing with some injuries and the whole team for the men's 4 x 100 is not together. It's not as strong as we would like for it to be, but it should give us an indication of what to expect before we go to the Commonwealth Games."
On his performance: "I just experienced a slight hamstring pull in my last meet in Atlanta, so I just have to wait to see how it plays out here."
Quarter-miler Miriam Byfield
On being home to compete: "Since this is the first world relays, I'm excited to be a part of the women's 4 x 400 relay team. We may not have the strongest team, but we just have to work with who we have and I'm sure that we will go out there and do our best and put on a good performance before the home crowd."
On her performance: "I feel pretty good. I have my coach here, Roger Charlton, who is a part of the coaching staff, so hopefully he will help to get us fine tuned for the relays."
On the team's expectations: "We're going to put on a show. There's nothing like performing before your home crowd. We will have their full support."
Sprinter Tayla Carter
On being home: "I think it's a privilege to be here and because they have chosen me, it's important for me to go out there and represent the Bahamas to the best of my ability. So I'm really honoured."
On her expectations: "I expect my team to run the best that we could and have very fluent exchanges, that everything goes very well and everyone is healthy and we compete to the best of our ability."
On running in the new stadium: "It's the first time that I will get to run in the stadium, so I'm quite excited. I don't know what to expect, but I know that because I'm under those lights, I will be able to perform better than I am expected."
Quarter-miler Wesley Neymour
On running at home: "I feel great. Home court and everything. I feel just great."
On his expectations: "I'm expecting for us to win the gold. I expect that we will do very well in the 4 x 400. We beat the United States at Penn Relays, so we know that they will be coming back with blood in their eyes. So we have to perform very well."
Quarter-miler Lanece Clarke
On coming home: "To be a part of the IAAF World Relays team is history making, so I'm elated. I'm proud to be a part of this team because I will get a chance to compete before the home crowd."
On her preparations: "It's been going very good. I'm actually training for Nationals, but this is something in between and the preparation has been going very well."
On her expectations: "I'm looking forward to going out there and doing my best. With the home crowd there, I'm sure that I will do very good. It's my first time competing in the new stadium, so I can't wait because I haven't seen the inside of it yet."
Quarter-miler Andretti Bain
On coming home: "I'm very excited about it. As a senior athlete or an athlete in general, you always love the opportunity to compete before your family and friends, so I'm very excited about this opportunity."
On the team's performance: "I think the team will do very well, to be honest. Right now, the team is very young and very hungry, so I think we're going to surprise a lot of people out there. This is the future of Team Bahamas. For the next two Olympics, these are the athletes that the Bahamas will be getting to see, so we're just going to get out there and put on a good show."
On the new stadium: "I've had a few practice sessions in it, but I've not had the opportunity to compete, so I'm very much looking forward to it. I think it's second to none when it's filled. I had the opportunity to sit in there during CARIFTA and saw how lively it is. I think the world is going to be amazed by the Bahamian crowd support."
Sprinter Johnathon Farquharson
On coming home: "I feel great about it. I'm just happy to be home, first of all, and ready to compete for Team Bahamas."
On his expectations: "I expect to come out here and run to the best of my ability and show off what I learn in university. I ran with a few of these guys before and they have faith in me and I have faith in them."
On the new stadium: "I heard it's a good stadium. I watched CARIFTA live on the Internet and it showed the potential to produce some fast times, so that's all that I'm looking forward to us doing here."
Sprinter Blake Bartlett
On returning home: "I feel positive. I'm glad that I got this opportunity to come home to represent my country."
On his expectations: "I have high expectations. I'm looking forward to some positive outcomes."
On the new track: "It should be a good experience for people to see our country, but we are at home, so we should be ready to rock and roll."
Sprinter Adrian Griffith
On being home: "I want to thank the Lord for all the work he has done for us to this year and how he has blessed us. In preparation for the world relays, we came together as a team and we are doing some things to get some synergy and we are looking forward to doing our best and making the Bahamian people proud."
On his expectations: "I expect to run my heart out on every leg that I run."
On running in the new stadium: "I heard it's pretty fast, so hopefully it will work out with us getting some medals around our necks. It's the home crowd, so once we hear the cowbells and drums, we have to go."
Quarter-miler Demetrius Pinder
On returning home: "I'm happy and I give God thanks that I am getting the chance to run again. To have this meet home is a major blessing for us as Bahamians because we like to show off. Having the home crowd will make us run pretty fast."
On his expectations: "Expect the unexpected. Anything could happen in a big meet like this. So all I could say is watch."
On the team: "My team-mates are ready. I've seen them in practice and our guys are very serious about this meet with it being at home. I have trust in the guys from I first came on the team so I know that we will all give it our all."
Quarter-miler Ramon Miller
On competing at home: "I want to thank God for giving the Bahamas the opportunity to host this first World Relays. Being home is something different. We have the sixth man on our team, the crowd. We just want the crowd to be in it as much as we are because we have been preparing for this. We just want to go out there and do our best in front of the Bahamian people."
On his expectations: "I expect for us to have a good clean race and everybody is healthy. Dee (Demetrius Pinder) is back, we have LaToy (Williams), we got Wesley (Neymour), we got Chris (Brown), Michael (Mathieu) and myself, so I feel confident in the guys' ability and that we will do our best to make the Bahamian people proud."