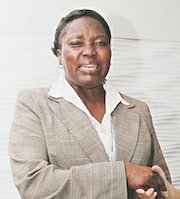 By AVA TURNQUEST
Tribune Staff Reporter
aturnquest@tribunemedia.net
CONFLICTING policies will not prevent regional women leaders from obtaining consensus on substantive matters that impact gender equity in politics, according to regional delegates last week.
Commonwealth Women Parliamentarians (CWP) pledged to engage issues of tokenism, access and support as they fielded concerns from former colleagues, civil society and the wider public over the true representation of women in high-level politics.
A branch of the Commonwealth Parliamentarians Association, women parliamentarians across party lines in the region, convened for a special two-day workshop in Nassau to establish a steering committee and strategic action plan to increase gender representation.
The workshop's first day was led by CWP's international chairperson Rebecca Kadaga, a Ugandan Parliamentary Speaker whose country's controversial stance on human rights has come under fire from larger nations, such as the United States, United Kingdom and Canada.
Transport Minister Glenys Hanna-Martin, CWP regional chairperson, said that although she was unfamiliar with domestic politics in Uganda, differing political views could not impede progress.
She added that while there will be "some personal variance", the group will emerge with consensus on substantive matters.
Mrs Hanna-Martin said: "I went to meetings in the Commonwealth Parliamentarians Association where women parliamentarians came from states where they were still doing female circumcision. We have to keep moving the agenda forward; it's not a simple page where everyone's on it.
"It's about how we come on the same page, and each state is evolving. Meetings like these help us to come to a common understanding on issues."
Representatives from the British territories, Cayman Islands and Turks and Caicos, explained that their legislative framework mandated gender equality given their ties to the UK. Both countries have gender equality legislation and clear policies against discrimination.
Tara Rivers, Minister of Education, Employment and Gender Affairs, said: "We have a gender equality law, which makes discrimination on the basis of sex or gender illegal, so we already have the framework which basically says discrimination is not tolerated.
"From that perspective, it's important to hear everybody's voice. It's a situation where people feel empowered and also respect other people's voice as well, and I think that's the dialogue that needs to happen is that we can respectfully disagree but everyone is entitled to their opinion – once it is done in a way that is conscious and takes into consideration differing perspectives.
Ms Rivers added: "That is the message that is often lost when people are talking about hearing the voice of the disenfranchised group. That is very true but we also need to hear the voice of the 'franchised' group and to see how we can come together and find a common ground."
The Turks and Caicos boasts high representation of women in parliament, with over 46 per cent in the House of Assembly, and 60 per cent in key decision-making positions within the government, according to Deputy Premier Akierra Missick.
Ms Missick said: "We're here to support the women movement in essence, now again it's all women regardless of sexual orientation, race or religion. I think the best way forward is if we have a full and frank discussion: this is what the Turks and Caicos has done, this is what Cayman has done, this is what Bermuda has done.
"We are overseas territories that means our 'motherland' has made these decisions for us, but it is for us to carry them out, and we have voluntarily carried them out to ensure that all people truly are created equal and feel equal in their country."
In response to whether or not conflicting policies present a challenge to advancing a cohesive mandate, Mrs Kadaga said: "I don't think that we can have a consensus on everything all the time. We come from different backgrounds and different cultures with different priorities.
"I think the important thing is to respect the sovereignty of each country, to determine what is important and right for their population. I don't think it's proper for any country to try and impose their standards on other countries. I think each country must have its own opportunity to make decisions."
During the closed Friday session, parliamentarians were expected to set objectives and target "agents of change" for the creation of a strategic action plan. Attempts to follow-up on the outcome of the conference were unsuccessful up to press time.
On Friday, Mrs Hanna-Martin said: "I think that what you will find is that what we are moving towards is consensus on all these issues as women who hold political power in our respective states, including those who come from the colonies – or as they call them territories. By tomorrow we will have consensus, we are coming out with a strategic action plan and we will be agreed on all the issues.
She added: "I think that you will find we are going to be taking the high road all the way through, to the finest point, in terms of what we have to do."