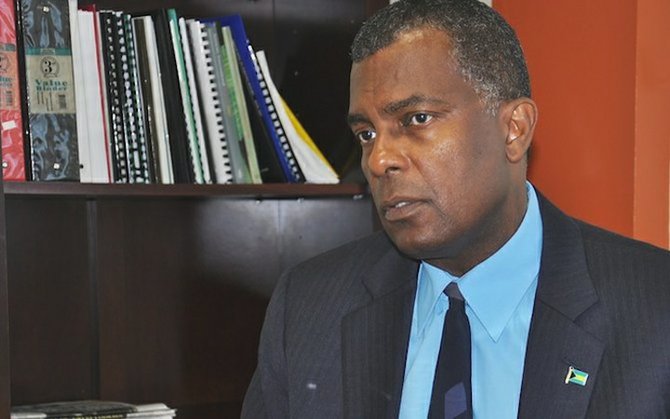 By KHRISNA VIRGIL
Tribune Staff Reporter
kvirgil@tribunemedia.net
FOREIGN Affairs Minister Fred Mitchell yesterday said he had a "very frank" conversation with Antonio Rodrigue about the Haitian Ambassador to the Bahamas' controversial comments on the rounding up of illegal immigrants on Monday.
Mr Mitchell, who spoke to The Tribune from Trinidad where he is attending a CARICOM meeting on the Ebola threat, declined to comment on the details of the teleconference but said Mr Rodrigue's statement to the media warranted a discussion.
A press statement from the Ministry of Foreign Affairs announcing that the two had spoken said: "At the invitation of the minister of foreign affairs, the ambassador for Haiti to the Bahamas attended the Ministry of Foreign Affairs this morning for a discussion in a teleconference of the ambassador's intervention in the press yesterday.
"There was an exchange of views with the ambassador on the matter and it is hoped in light of that exchange that the necessity for such interventions by the ambassador will in the future be at a minimum."
This comes after Mr Rodrigue told reporters on Monday that the government should use the "Christian spirit" as it handles the round up of illegal immigrants. He further told reporters that photographs and video of children being led away by Department of Immigration officials on Saturday created a "very bad image" for the country.
At the time he said: "When you see that situation, where the children are born here, raised here and have been here all of their lives, and they are treated like that, you ask, 'Where is that Christian spirit they talk about here?'"
Mr Rodrigue went on to say that the Bahamas government must make some consideration regarding sending children to Haiti who were born in the Bahamas to illegal immigrants.
"When you took those children, (you're) sending them back to Haiti - I know because their parents are Haitian they can have Haitian nationality - without anything," he told reporters on Monday.
Scores of people suspected of having no legal status in the Bahamas were apprehended during a round up on Saturday. The exercises targeted central and southwestern New Providence.
On Sunday, Mr Mitchell said only 77 of those rounded up on Saturday were held at the Detention Centre.
Department of Immigration officers canvassed several businesses, went to homes and checked vehicles during the operation.
The operation coincided with the Christie administration's new immigration policies, which took effect on November 1. The changes require all non-Bahamians to have a passport of their nationality and evidence that they have permission to live and work in the Bahamas.
The government also said that as of November 1, it would not approve first time work permits for non-residents who have no legal status in the Bahamas.
The government has also said it will stop issuing certificates of identity to non-nationals who are born here.