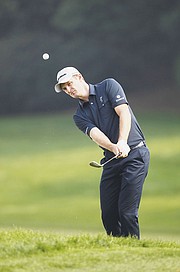 JUSTIN Rose, the English golfer, has moved his family from Florida to the Bahamas, where he has owned property at Albany for the last few years. The Roses moved after the Open Championship in July and have made that their permanent residence - at least for now.
"We're having a great time," Rose, last year's US Open champion and seventh in the world rankings, said. "We had a place there for two or three years, and obviously over time we developed a lot of friendships. With the facilities they've created for us, I have the opportunity to practice and be the best player I want to be and spend time with my family. There are a few more natural hobbies than I had in Orlando, fun things to do to get away from golf. I thought it would be good to have a nice, healthy place to be and spend time with the kids."
He has two children, Leo, who has already started kindergarten, and Lottie.
How long this lasts is still to be determined. Rose said he has not sold his home at Lake Nona until he is certain this is the right move.
"We've taken a leap of faith, but we're not all in. We're kind of hedging," he said.
Rose, 34, said travel is not an issue. He flies privately about 80 per cent of the time, and there are enough direct flights from the Bahamas to the right cities to make travel easy.
And he won't have to travel far to play in the Hero World Challenge that Tiger Woods hosts. Woods also has a place in Albany, and his December tournament is expected to move there in 2015.
"Are you kidding? It's right on my door step," Rose said. "Sign me up now."