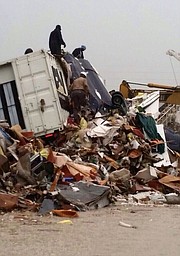 By RASHAD ROLLE
Tribune Staff Reporter
rrolle@tribunemedia.net
AN analysis of the cockpit voice recorder and digital electronic engine monitors that were on board the ill-fated Learjet that crashed in Grand Bahama on Sunday, killing Dr Myles Munroe and eight others, will begin today in Washington, DC.
The Department of Civil Aviation released a statement yesterday which said that the analysis will be conducted at the National Transportation Safety Board headquarters by personnel from the department's Aircraft Accident Investigation and Prevention Unit; Bombardier, the manufacturers of the Learjet; the US' Federal Aviation Administration; and the National Transportation Safety Board.
"It is not yet known how long the analysis will take to be completed, however CAD officials will provide further details on the crash, as soon as they become available," the department said.
However, an official close to the situation told The Tribune that in two weeks authorities expect to have concrete information about Sunday's crash, based on the analysis of the voice recorder and digital electronic engine monitor.
Until then, investigators will continue to gather information about the crash and write a preliminary report based on their findings, The Tribune was told.
Dr Munroe, founder and president of Bahamas Faith Ministries International, his wife Ruth, Dr Richard Pinder, a BFMI executive, Lavard and Rudel Parks, BFMI youth ministers, their young son Johanan, pilot Capt Stanley Thurston, co-pilot Frankan Cooper and 38-year-old Colorado resident Diego DeSantiago were all killed in the crash.
The crash attracted local and international attention and condolences continue to pour in for the victims.
The group was heading to Grand Bahama for the 20014 Global International Summit, which Dr Munroe was to host.
Their plane crashed into a junk pile just after 5pm, after clipping a crane and reportedly exploding in mid-air.  
The voice recorder is expected to provide vital information on the final moments of the flight as the jet made its approach to land at Grand Bahama International airport.
The device records what the crew said and monitors any sounds that occurred in the cockpit. It is also extremely important for determining the timing of events because it contains information such as communication between the crew and ground control and other planes.
The recorder is usually located in the tail of an aircraft.
Dr Munroe, 60, was a well known author, motivational speaker, mentor and consultant. He frequently travelled the world giving motivational speeches and spreading the Christian message.