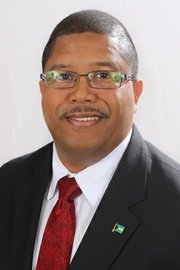 By RASHAD ROLLE
Tribune Staff Reporter
rrolle@tribunemedia.net
EAST Grand Bahama MP Peter Turnquest believes his status as a member of parliament puts him at an advantage heading into tomorrow's FNM convention, where he will vie for the deputy leadership post.
His statement came a day after The Tribune revealed his plans to nominate himself for deputy leader.
Mr Turnquest is expected to face off against FNM Chairman Darron Cash and Deputy Chairman Dr Duane Sands who have both said they will run in the deputy leadership race.
"I've decided that I will place myself forward for a nomination in the upcoming convention," he told reporters yesterday. "I believe our party will benefit from new leadership, from new ideas that I bring, having been not necessarily involved in the internal dynamics of the party for very long.
"I believe that I bring a fresh perspective, new vision, new ideas. I believe that my experience in the last two and a half years as well as my experience in the private sector brings the skills that are needed to develop policy and strategies that are needed for both the party as well as the country moving forward when we are potentially elected in 2017 or before. So I present myself to delegates and I'm hopeful that they will brace this new vision that we want to bring to the country."
He added: "I don't necessarily say that we lack things. "But there's a vacancy. I have at the moment two competitors vying for the same position (of deputy leader), both of whom are very qualified and certainly I could take nothing from them. However, I believe the position that I hold today puts me at a little bit of an advantage in being able to contribute at this level and towards defending this party's vision and plans; so I put myself forward in that light."
Party leader Dr Hubert Minnis will be challenged by Deputy Leader Loretta Butler-Turner.
Mr Turnquest also denied that he and Dr Minnis are offering themselves to delegates as a team, after social media images linking the two together gained traction recently.
"No, he has not officially endorsed me," he said of Dr Minnis yesterday. "I've had the opportunity to work with both the leader and the deputy leader and I have a good relationship on both sides and that gives me a unique ability to be a complement to whoever is elected as the leader of this party and so, in terms of a team, no, there's been no teams announced as far as I'm aware and certainly I'm not a part of one, but I believe I have the temperament, the ability and the relationship with both parties to be able to support them and bring development to the party."
Mr Turnquest did not endorse a candidate for leader.  
"I have my views, obviously," he said. "However it's up to the delegates at convention, after listening to each of the candidates, to make that decision. Certainly I will not pre-empt them, whatever that decision turns out to be."
Mr Turnquest admitted to being at a slight disadvantage to his rivals, having announced his intention to run for deputy leader mere days away from the party's convention.
"Yes, there is the thought that I may be at a disadvantage," he said when asked about the matter. "However, I believe individuals will consider very carefully the future of this party and the future of this country and they will make the right decision."
He added: "We have obviously been doing our calls and our solicitations. We've been getting very good responses. I think you would have seen the Facebook and social media response but we are making the personal contacts with a number of delegates to explain our position, what we have to do with the party and how we could help moving forward."