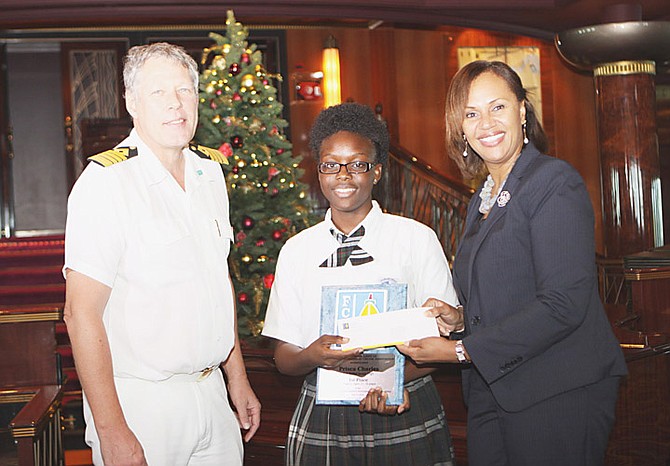 PRISCA Charles, a student at CV Bethel Senior High School, has beaten thousands of entrants from the Caribbean and Latin American region to win a prestigious environmental poster competition and a $3,000 educational scholarship.

Prisca, an 11th grade student, captured the theme "Our Environment Is In Your Hands" to win the Florida-Caribbean Cruise Association (FCAA) 2014 Children's Environmental Poster Competition. She was presented with a plaque and funds at a special ceremony and luncheon on Wednesday on board the Norwegian Cruise Liner, Norwegian Gem.
The 15-member cruise lines association holds its annual poster competition to promote and encourage environmental awareness among students and "to effectively educate the younger generations on the importance of environmental protection," it says. The FCCA said 13 destinations throughout the Caribbean and Latin American region participated in the competition. It judged the entries to select winners based on their creativity and messages advocating the role each destination plays in preserving the environment.
Director General of Tourism, Joy Jibrilu, congratulated Prisca on her win and Rodney Farquharson, a student of SC McPherson Junior High School for his outstanding work in the junior category.
"This year's theme, I am told, seeks to promote environmental awareness among Caribbean students, while educating our younger generation on the importance of environmental protection," Mrs Jibrilu said, adding that the Ministry of Tourism supports these ideals as they embody its vision and overall objectives in its quest to promote environmental protection for future generations.
"The partnership between the Bahamas and the Florida Caribbean Cruise Association continues to augur well for the sustainability of the tourism product. We are delighted for the accomplishment that was achieved by Prisca during this year's poster competition," she said.
She thanked the principals and teachers of CV Bethel and SC McPherson for their commitment and dedication in ensuring that young Bahamians are prepared to compete in this competition annually.