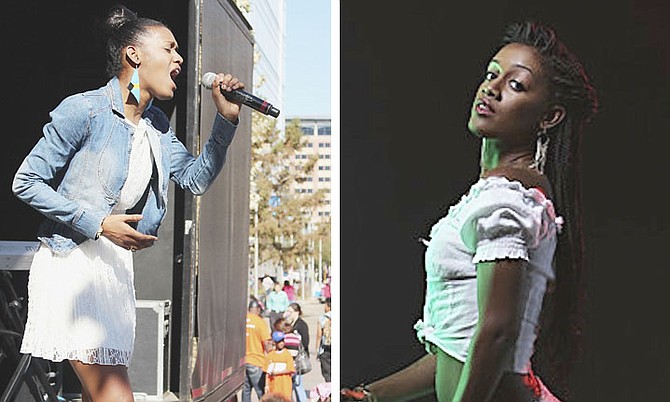 By LESH
Tribune Features Reporter
acadet@tribunemedia.net
WHEN Khiara Sherman released her first song over a decade ago, there were no social media avenues such as YouTube, Instagram, Facebook and Twitter to help push her music. Today, these popular mediums have allowed her to independently share her talent with a larger audience.
With more than 100,000 followers on Facebook and Twitter collectively, and 1,740 followers on Instagram, Khiara's musical journey has come a long way. The singer has also acquired her very on YouTube VEVO Channel entitled KhiaraOfficialVEVO.
As a young girl, she initially started singing in the church, eventually becoming a member of the Bahamas National Children's Choir and the Bahamas National Youth Choir. Both organisations gave her the opportunity to sharpen and broaden her vocal skills, travelling to places like Europe, Asia, North America, and throughout the Family Islands as a cultural ambassador for the Bahamas.
She told In Ya Ear that the opportunity to take centre stage presented itself when she was asked to become a member of a Bahamian band called Xtra. She joined in 2004 and recorded two hit songs with the band entitled "Private Dancer" and the remake of the T-Connection's 80s smash, "Best Of My Love".
In addition to being a member of the Xtra band, Khiara was also a lead singer for the Visage group up until the time she left the Bahamas to further her education.
Presently living in the United States, Khiara often performs with a Houston-based band. She has also embarked on her solo career and recently released her first single called "Are You The One".
Khiara looks at the new single as a major milestone in her career as a solo artist, as the track reached number 18 on the Chartbase Top 100 music charts in the Netherlands.
"To know that my single was well received in Europe is very encouraging and has served as a form of motivation for me. Another career milestone was to see my songwriting ability being recognised. Music has always been my passion and love. I see myself being involved in music for the rest of my life. I would like to continue singing and songwriting. In addition, I would like to be in a position where I can help to develop local Bahamian talent," said Khiara.
Just last week, the Bahamas Junkanoo Carnival 2015 committee launched their Compilation CD that features 19 Bahamian artists, and Khiara was one of the singers chosen as a semi-finalist for her song "Fly Away With Me".
"It feels great to once again be a part of Bahamian history. It is definitely an honour to be chosen as a semi-finalist amongst well respected musicians/artists. It is a good feeling for my work to be recognised and I am excited about the opportunity of being able to perform at home during the Bahamas Junkanoo Carnival," she said.
Khiara said "Fly Away With Me" is a reflection of all the things she loves and misses about her home in the Bahamas.
"I've been living in the United States for nearly five years and I miss a lot of things about home. I miss my family, friends, certain places I would hangout, and definitely the food. My perspective is one of appreciation and pride, and there is also a strong element of our culture throughout the song," she said.
When people hear "Fly Away With Me", Khiara said they can expect a blend of Junkanoo, rake n' scrape and soca. She said the song can be appreciated by Bahamians living in the Bahamas and abroad because it touches on some of the island's cultural nuances, but most importantly it features the rhythms that will make both young and old get up and dance in the spirit of Junkanoo Carnival.
Khiara said the Bahamian talent pool is growing and she hopes to continue to be a part of it.
"Locally there seems to be a greater appreciation for local music, and with the advancement in social media and the success of some of our artists there is an appreciation internationally as well," said Khiara.
For 2015, she is looking forward to writing more songs, releasing her EP, and touring so that she can perform original material. Another goal is to give her all during the 2015 Bahamas Junkanoo Carnival performances.
Khiara's music can be found on iTunes, Google Play, Amazon, Beatport, CD Baby, Spotify and on her website, khiaramusic.com.
She encourages her fans to follow her on social media, @bahamaqueenkiki on Instagram, and Khiara Sherman on Facebook and Twitter.