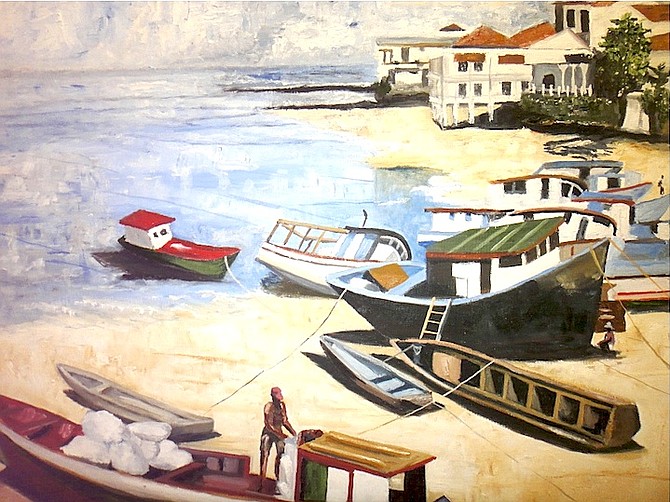 By JEFFARAH GIBSON
Tribune Features Writer
jgibson@tribunemedia.net
THE GRAND Bahama Artist Association's Thanksgiving exhibition has always been one of the island's largest displays of art which aims to push the boundaries and explore various subject matters. 
Held to showcase the work of the association's members, this year's exhibit is now open at the Glory Banks Gallery at the Rand Nature Centre in Freeport.  
All of the exhibiting artists in the show are either Bahamian or call Grand Bahama their home.
They come from a wide variety of backgrounds as diverse as their expressive styles. 
The GBAA's president, Steve Stubbs, said: "We have artists who work in practically every medium.
"Work at the exhibit includes watercolour, oil, pastels, acrylic, mixed media, fibre art, ceramic art and sculpture."
Del Foxton, a member of the association, told Tribune Arts and Entertainment that as usual the opening evening went well, with guests enjoying the art on display. 
"A beautiful balmy evening brought a large crowd out to the opening reception of the annual Grand Bahama Artists Association's Thanksgiving Art Exhibition.
"Guests viewed the artistry in the main gallery and open areas," she said. 
The GBAA 2014 Thanksgiving Exhibit was officially opened by former Senator and educator Geneva Rutherford, and featured work from Lisa Codella, Portia Colebrooke, Eva Dehmel, Leo Devillers Munnings, Leslie Duncombe, Del Foxton, Louise Koll, Lou Lihou, Terry Lord Rolle, Ishbel MacDonald, Dugie McNabb, Jo Morasco, Ashley Murphy, Cyndy Payiva, Alisa Streather, Steve Stubbs, Cali Veilleux, Martine Wardill, and Rupert A Watkins.
"Opening remarks at the GBAA Thanksgiving art exhibition were delivered by Ms Rutherford, who is a strong supporter of the art.
"Ms Rutherford acknowledged the pioneers of art and culture on Grand Bahama Island and the Bahamas who opened doors and continue to provide inspiration for today's artist," Ms Foxton said. 
The GBAA Thanksgiving Art Exhibit continues until November 29 at the Rand Nature Centre.
After that members of the GBAA will turn their attention to preparing for Festival Noel on December 5 at the Rand Nature Centre.
It is the annual fundraiser for the Grand Bahama branch of the Bahamas National Trust and many members of the GBAA have individual exhibits that provide residents and visitors the opportunity for early holiday gift buying.
In February, the members of the GBAA will also present their 18th annual Valentine Art Exhibition at the Glory Banks Gallery.  
Admission is free and the Rand Nature Centre is open Monday to Friday
from 8.30am to 4.30pm and on Saturdays from 9am to 2pm.  
For more information, contact 242 352 5438.