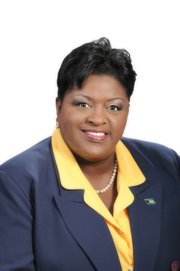 By NICO SCAVELLA
Tribune Staff Reporter
nscavella@tribunemedia.net
SOCIAL Services Minister Melanie Griffin yesterday commended former FNM Deputy Leader Loretta Butler-Turner for "stepping forward" and taking on incumbent leader Dr Hubert Minnis for the leadership of the party.
Mrs Griffin was asked to comment on Mrs Butler-Turner's reported landslide defeat to the newly re-elected leader during the FNM's convention last Friday.
Mrs Griffin's statements also came a day after Hope Strachan, Minister of State for Transport and Aviation, said the FNM might have found it "easier" to elect Mrs Butler-Turner as leader if she were a man.
Speaking with The Tribune in Rawson Square yesterday, Mrs Griffin said although Mrs Butler-Turner ultimately lost, her bid was enough to create an "in-road" for other women in politics.
"I think as I indicated before the elections, I thought it was democracy at play," she said. "As a woman, we're all proud that she stepped forward and she offered herself. Unfortunately she didn't win, but it's still an in-road. Wherever we have women stepping forward for leadership positions we must support it."
On Monday, Mrs Strachan suggested the Long Island MP's defeat demonstrated that there was still a long way to go before women were viewed as equal and politically viable by the internal party electorate, and to a wider extent the general public.
She said it showed that "women still have a way to go in politics, not only in terms of being the choice for the electorate, but particularly as it related to internal politics."
Mrs Strachan said if one were to put Mrs Butler-Turner's "character and personality, her outspoken manner" into a man, the choice to elect her for leader would have been "so much easier for people."
FNM Senator Heather Hunt also said on Monday that she was proud of the Long Island MP for taking bold steps to close the gender gap in politics and carve out a path for future female politicians.
However she suggested the patriarchal nature of politics was not something that could have been changed in the short amount of time Mrs Butler-Turner had to campaign for leader.
"She has definitely beaten down the path, so that anyone who comes behind her or even if she tried again at a later date, she has made history and started to break down the notion that political leadership is still a man's place," Mrs Hunt said on Monday.
"It's a sustained message, it's training young Bahamians or socialising them to appreciate that gender is not a factor to be taken into consideration. But when you have generations of Bahamians accustomed to men in the front of politics, that's not something you can break in a two-month campaign."
During his victory speech, Dr Minnis said he looked forward to working with his former deputy in the lead up to the next general election.
When asked last week if she felt that statement was sincere, Mrs Butler-Turner said she hoped it was.
In spite of her loss, Mrs Butler-Turner said she hasn't lost her enthusiasm and said she remains committed to the FNM.
East Grand Bahama MP Peter Turnquest was elected as the FNM's new deputy leader while Senator Michael Pintard was chosen as its new chairman.